MONAT Recognized as Customer-Centric Company by Direct Selling News
November 9, 2020
By Nicole Dunkley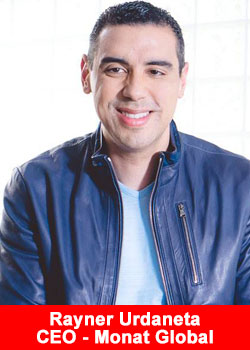 Global healthy-aging haircare, skincare and wellness innovator, MONAT Global Corp (MONAT), has been recognized as a gold member of the inaugural Direct Selling News Customer-Centric Recognition Program, which honors companies leading the way toward a sustainable, customer-centric future for the industry.
"We are thrilled to be recognized by Direct Selling News as a customer-centric company," said Stuart MacMillan, president, MONAT Global. "We have more than 1.2 million preferred customers who believe in MONAT products and are excited for them to arrive on their doorstep every month. We greatly value our customers because they are the key to our future."
The Miami-based global brand attributes its success to the company's effective products, its VIP (loyal) customers, and its independent sales force, known as Market Partners.
"Our customers are the reason we have achieved such incredible success over the last six years," said Ray Urdaneta, co-founder and CEO, MONAT Global. "We founded MONAT with a goal to make a difference in the lives of others, and that is exactly what we have done and continue to do."
About MONAT Global
MONAT Global is an international healthy aging haircare, skincare and wellness brand founded to help people everywhere enjoy beautiful, healthy, fulfilling lives through exceptional, naturally based products; a fun and rewarding business opportunity; and a culture of family, service, and gratitude.
Founded in 2014 and headquartered in Miami, Florida, MONAT provides groundbreaking opportunities through a novel Social Marketing approach to Direct Sales. MONAT's product development is led by Chief Science Officer Alan J. Meyers and supported by a Scientific Advisory Board comprised of eminent professionals in medicine, cosmetics, haircare, science and health.
MONAT offers a unique and exciting business model and one of the most generous compensation plans in the U.S., Canadian, U.K., Irish and Polish markets.