Pablo Ballesteros Educates Network Marketing Entrepreneurs With his A1 Technology Academic Platform
November 11, 2020
By Team Business For Home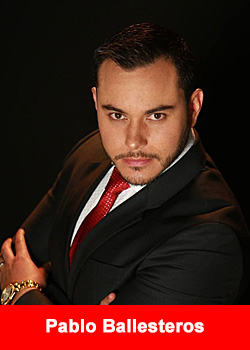 Businesses started by young, rookie entrepreneurs, as well as motivational coaches are both considered important pieces of the global economy. When united, both have a strong impact on the masses.
However, starting a business and growing it into a successful one takes hard work and dedication. Pablo Ballesteros is supporting amateur entrepreneurs through a virtual academy and taking the stage giving motivational speeches, sharing his knowledge and experience in the leadership world as well as finances, aiming to transform their entrepreneurship dreams into a reality.
Who is Pablo Ballesteros?
Pablo Ezequiel Ballesteros Pages, is an entrepreneur, a professional trader, and leader in power whom with his educational tools and years of experience in leadership, has already generated more than 7 figures  in the industry. He started off being a professional Forex & Cryptocurrency trader and a marketing specialist, but after 4 years of dedicating himself to empowering other individuals that share his values and business mindset, Pablo has managed to create a large educational platform that has helped many worldwide.
"I am a fervent believer that all people are capable of building leadership, only they do not know the methods to do it."
Through his platform and live speeches, Pablo has inspired and educated many to leave their fears of failure aside to pursue their dreams, which is one of his main goals. Ballesteros has even been acknowledged internationally for creating work groups of over 500 people!
Pablo has garnered a lot of leadership experience over the years. With that, he has forayed into social entrepreneurship, to 'Empower Entrepreneurs To Grow Efficiently'. In fact, MLM (multi-level marketing) is one of the methods Pablo is currently working with, to support and boost his peers' growth in the business world.
Regarding his vision, Pablo says
"My vision is to take my high-level leadership to millions of people, preaching my Lord's teachings to them, since everything is already written in the Holy Bible (about becoming a leader in every aspect of your life)."
"Also, to help people integrally in every area of their lives, not only monetarily; the reason behind this, is because there are individuals who are financially successful but are also disastrous or have many issues at home.
I want to do this using my tools, which were the ones that personally helped me get back up on my feet financially, took me out of the path of almost getting a divorce, and got me to live madly in love with my wife, while being a better person and focusing on creating world-class leaders, worldwide",
he adds.
Ballesteros has stated that he is also a very spiritual person, believer of God and Jesus Christ. He strongly holds that he used to be an explosive type of person and after knowing God, his ways have changed for the better. Nowadays, many testimonials have stated that Pablo is "an exceptional leader".
Pablo's Perspective
Defining himself as "a leader in power to help those who feel lost, giving just 20% of their potential in their business", he is able to take them to their fullest with his knowledge and teachings.
His virtual academy offers users educational tools regarding Forex, stock and Crypto-coins, as well as e-commerce, real estate, and leadership. With his years of experience, the academic training, as well as the opportunities he provides his peers and students through his many platforms, Pablo is devoted to cultivating and nourishing the business mindset of young entrepreneurs so they can become the great leaders of the future.
"Inspiring people to believe in themselves is what I love. I am a fervent believer that all people are capable of building leadership. My wish is to spread the message to every corner, letting people know that God is always with us, we just need to let him in."
About Pablo Ballesteros
BE is one of the companies Ballesteros is highly involved with to this day, helping young visionaries obtain a well-paid job while providing powerful tools to adapt to today's digital age. Their approach disrupts the traditional selling industry model, hence the technological platform they created, that provisions education, travel, telecommunications, transportation, plus the wonder of owning a digital business pocket-sized. As the BE project has evolved and shifted, big names such as Forbes, The Silicon Review, and Digital Journal have covered the organization's vision and exponential success in their prestigious pages.
For more information please visit www.pablocoach.net