Paolo Franciscono Is The Youngest Distributor To Achieve Platinum Ambassador Rank At Kuvera
November 13, 2020
By Team Business For Home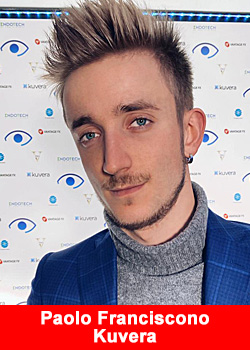 Paolo Franciscono achieves the rank of Platinum Ambassador with Kuvera despite his battle with cancer
Multiple relocations, battling cancer, and the death of his father didn't stop Paolo from achieving the rank of Platinum Ambassador at Kuvera.
Paolo Franciscono is twenty-one years and was born in San Jose, Costa Rica. When Paolo was nine years old he moved from his hometown. This was the first of nineteen moves Paolo would go through as a child.
When Paolo moved to Italy he struggled because he was unable to speak, read, or write in the native language. He overcame this trial with the help of his mother who spent time teaching him the language every day.
Since Paolo was a young boy he was surrounded by entrepreneurship. Both Paolo's parents were entrepreneurs in the field of laser toners and printers. Paolo's father traveled abroad frequently for business so Paolo spent a lot of time with his mother. 
In 2013 Paolo had to get many clinical tests done to evaluate his health. Shortly after, he was diagnosed with cancer. Paolo was worried about his diagnosis at first because he had heard so many awful stories about cancer. He quickly had a change in attitude and decided to fight.
Paolo had surgery and went through many rounds of chemotherapy. He was initially worried because the chemotherapy made Paolo lose all of his hair right before starting high school. He was bullied by a few people, but despite the hair loss, Paolo realized he shouldn't care about other people's opinions.
Through his battle with cancer, Paolo gained an exceptionally strong mindset. This mindset helped him build a successful business, but building a business also came with its own struggles at first.  In 2017 Paolo joined his first network marketing company. Though his dad was ill, his father gave him the money he needed to start his new business. Paolo worked extremely hard in the first two months, but then a terrible, shocking event changed his life forever.
Paolo lost his father, superhero and role model. He was devastated. Paolo tried being strong for his mother and he's very thankful for the strong woman she is. Together they supported one another as they mourned the loss of their husband and father. Paolo said,
"From the moment I found out about my father's passing, my attitude and motivation immediately got stronger."
In February, 2020 Paolo was introduced to Kuvera. He was a bit skeptical at first, but Paolo always says,
"Be skeptical but clever."
Paolo really liked Kuvera and their business structure. He said,
"In my opinion, Kuvera's concept is smart and fast. I don't know of any other company that allows you to grow as fast as you can with Kuvera. I like the corporate team and the leadership in the field. I believe in Kuvera's mission and I personally think that Kuvera's products and tools can be useful for everyone. Everyone uses money, but not everyone knows the true meaning of money, its value, or how to use it in a smart way."
Paolo quickly found success with Kuvera. His perseverance, ability to overcome adversity, and his will to continually improve has helped Paolo build a great business. He doesn't like to say that he, himself, has achieved a specific rank. Rather, he prefers to say that he and his team have reached the rank of Platinum Ambassador in four short months.
Paolo believes the key to success is the ability to focus on the actions needed to achieve your goals. Paolo's next goal is not to hit a specific rank or income, rather, it's to share Kuvera's mission and opportunity with somebody new every single day.
About Kuvera
Kuvera, a subsidiary of Investview, delivers financial education, technology and research to individuals through a subscription-based model. Kuvera provides research, education, and investment tools designed to assist the self-directed investor in successfully navigating the financial markets.
These services include research, trade alerts, and live trading rooms that include instruction in equities, options, FOREX, ETFs, binary options, crowdfunding and cryptocurrency sector education.
In addition to trading tools and research, Kuvera also offers full education and software applications to assist the individual in debt reduction, increased savings and budgeting.
Each product subscription includes a core set of trading tools/research along with the personal finance management suite to provide an individual with complete access to the information necessary to cultivate and manage his or her financial situation. For more information, please visit kuveraglobal.com