Top Leader Norman Cornejo Resign From ACN
November 30, 2020
By Team Business For Home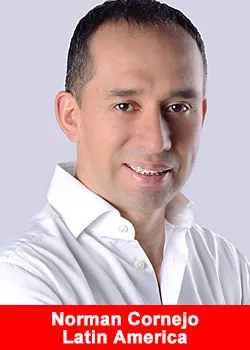 Norman Cornejo has a successful 16-year track record in the network marketing industry and is one of the leaders with the highest results in Latin America.
During his career has always been a top earner in every company he's been involved in so far.  We were surprised to know that he recently decided to resign from his current position in ACN Flash Mobile, where he was for two years.
Those who know him know that Norman is not a person who easily leaves a company and what we know is that in the past he has said that he has a principle:
"When there is no real opportunity for the people, there is no an opportunity for me "
It is not common to see one of the current top earners of a company leave and in the past, Norman has been criticized for his decisions but time has so far proven he was right.
Norman is a specialist in creating successful duplication and education systems with which has helped many people to change their results and has advised and created systems for leaders and companies in the industry.
W MOMENTUM (We Are Momentum) is a system created, tested, and led by him that helps people develop their leadership and easily and quickly create a successful MLM business.
We will be keeping an eye on the next step of Norman Cornejo because of the message that he left on the website www.womentum.net. The video is very clear: He will find a company that allows his current +5,000 people organization to have a real, legal, fair opportunity with the potential to become one of the largest companies in the industry in the coming years.
SPANISH VERSION
Norman Cornejo tiene una trayectoria exitosa de 16 años en la industria del mercadeo en red siendo uno de los lideres de mayores resultados en Latinoamérica, durante su carrera ha sido siempre un top de ingresos en las compañías en las que ha estado hasta ahora. Nos sorprendió enormemente saber que ha decidido no continuar en ACN Flash Mobile en donde ha estado únicamente 2 años.
Los que lo conocen saben que Norman no es una persona que deja una compañía porque fácilmente y sabemos por su pasado que se ha ido siguiendo una de sus premisas principales:
"El día que no haya una oportunidad real para las personas no hay  una oportunidad para mi" No es normal que la persona número uno de ingresos en una empresa tome la decisión de irse y aunque Norman ha sido a veces criticado en el pasado por esto, el paso del tiempo le ha dado la razón.
Norman es un especialista en crear sistemas de duplicación y educación exitosos con los cuales ha ayudado a muchísimas personas a cambiar sus resultados, ha asesorado y creado sistemas para lideres y empresas en la industria.
W MOMENTUM ( We Are Momentum – Nosotros Somos El Momento ) es un sistema creado, probado y liderado por él que ayuda a las personas a desarrollar su liderazgo y duplicarse sencilla y rápidamente en el negocio.
Estaremos muy atentos al siguiente paso que de Norman Cornejo porque el mensaje que dejo en su video en la página web de www.womentum.net es muy claro, va a encontrar una empresa que le permita a su organización actual que supera las 5.000 personas, una oportunidad real, legal, justa y con el potencial de convertirse en una de las compañías más grandes de la industria en los próximos años.
Recommended Distributors ACN