VYVO Launching Phase 2 Of Its Digital Health Sharing Economy
November 5, 2020
By Team Business For Home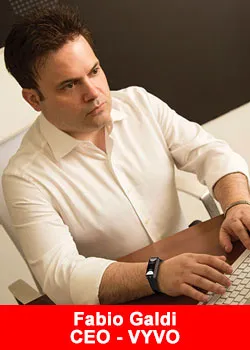 According to a VYVO press release:
With the announcement of the incredible Vyvo LifeWatch Generation 2 and the VyvoPay platform being fully operational and with growing numbers of members worldwide using their VyvoPay Bands and Cards to pay and cash out their Vyvo Tokens instantly, Vyvo prepared to reveal its next step in its roadmap, pioneering the Digital Health Sharing Economy.
From all corners of the world, over 5000 Vyvo members connected to the online Zoom Live conference this November 3rd to witness CEO Fabio Galdi and COO Alessandro Senatore reveal the bright immediate future Vyvo has materialized for all its members during the success stories this year in the face of many challenges.
Among the most significant highlights unveiled during the conference, one of the central focus points was the additional benefits and potential created in the new Vyvo Business Opportunity.
The diversified ways of earning Vyvo Token, empowered by the higher data-streaming from the new generation devices.
Along with the preparation of the expansion of VyvoPay services and development of the Data Exchange Platforms.
The business opportunity also received an easy-to-understand breakdown of it being composed of four earning programs; Referral, Networking, Token Rewards, and Lifestyle Reward, with each program receiving significant enhancements.
"After witnessing what we saw from our members, the sincere enthusiasm and excitement, especially after a year where we have seen the true face of determination and hard work. It's truly inspiring. I could not be prouder of this group and every triumph our members create."
said Fabio Galdi, CEO,
"Seeing everything they have accomplished, we can barely wait to see the success stories they will write with these new innovative opportunities,"
stated COO Alessandro Senatore.
About Vyvo Inc
We are a technology and network marketing company, using technology to create innovative solutions for the personalized health and wellness market worldwide. We are focused on developing consumer-oriented products that protect, monitor and empower people to improve their health through daily knowledge and informed choices. We create customized solutions to help our customers manage their most important asset, themselves and their life.
Our technology driven mission matches our network marketing soul. We are all about expanding concepts of personal growth and development, not only focusing on health but also on prosperity and economic wellbeing. For more information, please see www.vyvo.com