20% Commission For Event Promoters
December 2, 2020
By Team Business For Home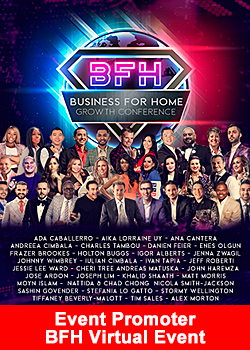 The upcoming Business For Home virtual event has the most amazing line-up ever, and as the top speakers are "paying it forward" we are able to organize this event for $35 only for all 3 days (Early bird offer) and make it affordable for large groups all around the world.
With Spanish, English and Russian translation!
This is THE ultimate Masterclass for active distributors in the Network Marketing – Direct Sales – MLM Industry. As we want to reach all corners of the world, we have created this event promoter program.
The top 3 Event promoters will get – on top of the commissions – a testimonial at the convention, (without a sales pitch).

The top 5 Event promoters will get – on top of the commissions – a free article on Business For Home, valued at $1,500.

The Top 20 Event promoters will get – on top of the commissions-  a free Recommended Distributor subscription for 1 year, valued at $120.
How to become a Business For Home Event promoter and earn 20% commission:
1. Go to https://ticketfactory.io/event/business-for-home
2. Order 1 ticket and activate your account via email. If you did not receive the email within a few minutes, kindly check your spam folder.
3. Click on the Event Promoter box, located on the top right.
4. Expand the arrow and accept the terms and conditions.
5. The next screen will display a personalized link that you can copy and use to promote the event.
You can also find a convenient overview of your tickets sold on your own Ticket factory website.
Event promoters will receive 20% commission on tickets sold!
Date: January 22 – 24, 2021
30+ Top speakers from Asia, Europe, Africa, Latin America, Middle East and USA.
NO HYPE, BUT PURE KNOWLEDGE    
It is delivered to you in a completely generic format. No companies or products are ever mentioned, so you will feel safe to share this ultimate training event with your Team!
This is what you will learn:
Emerge from this new era as a true leader.

Unveil the secrets of influential network marketeers from all over the work at our event.

There is no better place to invest in yourself than the upcoming Business for Home Virtual Growth Conference

A three-day life changing experience that features renowned legends and rising stars.

Learn how to excel in your business and be empowered by successful leaders.

How to develop a million-dollar mindset.

How to develop the skills necessary for success in Network Marketing

How to develop strategies to help you grow faster,

How to increase retention.

How to create more duplication.

How to keep your team engaged.

How to develop yourself as a world-class leader in Network Marketing.

How to identify people with leadership potential.

How to help your leaders.

How to create an exciting and executable game plan.