Daize Shayne Goodwin Achieves Elite Pro 9 Rank At LifeVantage
December 1, 2020
By Team Business For Home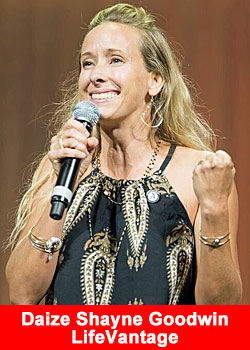 Daize Shayne Goodwin wholly believes that the sacrifices and growth she has made have been worth it. Just over seven years into growing her LifeVantage business, she feels she now has flexibility.
"If I hadn't been building LifeVantage, it would have been me cleaning houses and working a 9-to-5 like everyone does. I would have never had an end road. It would have just been that—me working, then I pay the bills, and then I die."
Daize is grateful for the impact growing a business with LifeVantage has had on her life.
"It's a complete 180 from where we were, not only financially, but also with our health and with our community. It has given my marriage a love we couldn't have had, because we've been able to overcome the stress of finances and 'life.' This has given us stability, a future, and a legacy."​*
Daize is proud of her success as a LifeVantage distributor, but she is most proud of the life her hard work has allowed her to live with her family.
Daize resides in Ha'ena Hawai'i, with her husband of 16 years, Aamion, and her three children: Given, True, and Shyne. Together she and her husband also run their own small business, ​Slow Yourself Down,​ while she simultaneously runs her LifeVantage business.
About LifeVantage
LifeVantage Corporation (Nasdaq: LFVN) is a pioneer in Nutrigenomics – a new science dedicated to biohacking the human aging code. The Company engages in the identification, research, development, and distribution of advanced nutrigenomic dietary supplements and skin and hair care products, including its scientifically-validated Protandim® product line, Omega+ and ProBio dietary supplements, its TrueScience® line of Nrf2-infused skin and hair care products, Petandim® for Dogs, Axio® energy drink mixes, and the PhysIQTM weight management system. LifeVantage was founded in 2003 and is headquartered in Salt Lake City, Utah. For more information, visit www.lifevantage.com.
*The Distributor sales earnings disclosed are potential gross earnings and not net of other business expenses and not necessarily representative of the actual income, if any, that a Distributor can or will earn through the LifeVantage Sales Compensation Plan. A Distributor's earnings will depend on individual diligence, work effort and market conditions. LifeVantage does not guarantee any income or rank success. See the Average Annual Earnings Disclosure for detailed earnings information per rank.
Recommended Distributors LifeVantage