Industry Veterans Sasha And Brian Mouchet Join Velovita
December 15, 2020
By Team Business For Home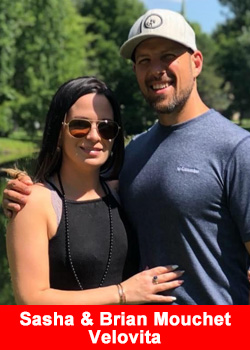 Sasha and Brian Mouchet share a diverse background, Sasha as a former retail management and Government administration professional and Brian as a Security and Compliance investigator.
However, their interest in MLM was much the same as many others'.
"We first started because we were drowning in debt and trending for bankruptcy. We needed a family-friendly way to bring extra money into our household to help us get caught up."
Says Sasha.
After having been in the MLM industry for nearly a decade and reaching the upper levels in their company's compensation plan, they were able to accomplish that and experience even more rewarding benefits.
Including becoming stay-at-home parents for their two beautiful daughters. However, the accomplishment that Sasha is the proudest of is her ability to be a full-time caregiver during her mom's courageous battle with Cancer.
"Because of what we had worked hard to create it allowed me to take her into our home and support her through her last year of life without always stressing about work and money."
Love for and devotion to their family is everything to the Mouchets and those in their "business family" as well, as they take great pride in the connections and friendships, they have built over the years in MLM. Now, what drives them' is to help and teach others how to "escape the awful world of debt themselves."
The Mouchets have left their previous affiliations and have recently joined Velovita as the vehicle they will use to help those other families in North America and around the globe. Per the Mouchet's:
"An exciting new product with its clean ingredients, sleek packaging, and innovative biohacking delivery system caught our attention. A young company with a high level of excitement, fun, professionalism, and leadership quickly made us realize it was where we wanted our MLM future to be. 
After all, everyone deserves to be the best version of themselves. Brān helps you to push forward and find the best person you are.
It's incredibly important and exciting to be at the forefront of a company that is going global. Just knowing how many opportunities this will create for so many people is mind-blowing."
"We are very excited and proud that professionals like Brian and Sasha, along with many others, are joining our cause of helping people become the best versions of themselves. We know the positive impact they will have on countless families will make the world a better place. Welcome to Velovita Brian and Sasha!"
Kosta Gara, CEO
 About VELOVITA
Founded on 90+ years of operational and field success, VELOVITA is set to become a global leader of innovation in the field of biohacking, social selling, community expansion, and support for the new world entrepreneur. Their mission is to provide an ecosystem of inspiration, education, and life enrichment. Velovita has a singular focus on the individual to increase their daily performance both mentally and physically.
For more information on VELOVITA, please visit Velovita.com or Velovita's Facebook page. You may also contact us at [email protected]. To join the new movement, click here for the Velovita Member Rewards. We know you'll #LOVIT!
Recommended Distributors Velovita