Juuva's Don And Nancy Wilson Surpassing $55 Million In Life Time Earnings
December 15, 2020
By Team Business For Home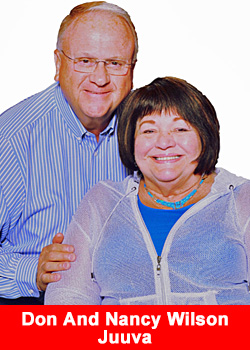 Juuva honors Don and Nancy Wilson upon surpassing $55 Million in Network Marketing Career Earnings. Sometimes the greatest achievements have the most humble beginnings.
In 1973 Don and Nancy lived in White River Junction, Vermont (Population 2286) USA.  Don was a High School science teacher and basketball coach. Nancy was a full-time nurse. Times were hard.
Their decision as a young couple to join a network marketing company took courage.  And few understood. Don's Mother cried. But is was a life changing decision, and Don and Nancy have never looked back.
That was US$55 Million ago.
"Congratulations Don and Nancy!  You have been incredibly successful in all areas of life and shared that with so many.  This tremendous accomplishment has come as you have raised the wealth of so many leaders.  You continue to inspire all of us as you set the pace for achievers around the world. Thanks for the vision and encouragement throughout the years – looking forward to more victories ahead in Juuva!"                                                   
Russ and Lisa Ence – Juuva Crown Distributor
"Congratulations, Don and Nancy, you've been leaders, mentors and an inspiration to thousands.  You've been easy to follow and duplicate.  Your consistency and relatability is unmatched.  You have shared your family, your home and your time for the benefit of others. "
Mark and Tami Crawford – Juuva Double Diamond
"Wow!  Congratulations Don and Nancy!  You both epitomize the best of this industry by assisting others in achieving their goals. We are honored to call you Juuva family and friends.  We love you."
Jeff and Denise Bracken – Master and Crown Distributors
"What an amazing legacy!  Surely you and Nancy never dreamed of the success and lifestyle you have enjoyed.  Your lives are a reminder of what can be achieved in this magnificent industry.  Thank you both for choosing Juuva to continue your unprecedented achievements."
Grant Pace, Juuva Co-Founder
About Juuva
At Juuva, we know the recipe for a company that lasts, and we're using it to transform lives every day. Juuva was built from the ground up to do things the right way—with integrity, passion and a distributor-focused mindset.
We pay a guaranteed 50% of PV to Distributors weekly. We want our Distributors to be successful because we know they are the key to our mutual success.
Our two co-founders, Grant Pace and Frankie Kiow, possess a wealth of industry experience and expertise and our entire executive team boasts more than 200 years of successful experience with the network marketing space. These individuals set the strategic direction for our company and they will do whatever it takes to provide the finest network marketing opportunity. For more information please visit www.juuva.com
Recommended Distributors Juuva