Mark & Tammy Smith & Team Freedom Join Seacret Direct
December 8, 2020
By Team Business For Home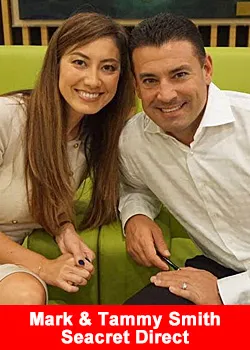 In a pivotal growth move, expert network marketers Mark and Tammy Smith bring two decades of experience to the Seacret Direct independent sales force. Included in their many successes, this powerful team generated over $2.5 Billion in sales and built teams with over a million distributors worldwide.
Tammy Smith is a wife, mother and trailblazer in the Network Marketing industry. For Tammy, it's more than just building a company. It's about building people and empowering them to reach their full potential.
Mark Smith is a husband, father, expert trainer and top leader in the Network Marketing industry. With many years of military service and over 20 years in network marketing, he has led thousands on the path to success. Mark is a passionate leader who truly believes in serving others and turning dreams into reality.
"With experience, you learn how to find the right company that aligns with your values and expectations. When you find something good you jump in with both feet and don't look back," says Tammy Smith. "With Seacret Direct there is something for everyone," adds Mark Smith.
Seacret Direct is always customer driven. The company launched with a direct-to-consumer model selling premium Dead Sea skincare products through kiosks. From the lowest point on earth, with over 20 years of expertise and mastery, Seacret Minerals from the Dead Sea unlocks the potential of this legendary beauty spa that seduced Cleopatra.
The direct-to-consumer approach proved to be a competitive advantage since Seacret products are designed to provide an immediate experience. Seacret Direct expanded the product line with plant-based nutrition in alignment with the quality ingredients of the skincare line. The nutrition products are plant-centric, vegan, non-gmo and alkalizing which is great for the health-conscious consumer.
In a unique collaboration, Seacret Direct is launching a program for 2021 that will establish the company as the largest seller of group travel in the world. Travel is almost a trillion-dollar industry and it rounds out the lifestyle experience Seacret aims to create for customers. Distributors will be able to offer customers a Seacret travel club membership as well as the skincare, bodycare, personal care and nutrition products.
On joining forces with Seacret Direct, Mark Smith responds that
"the opportunity seems endless and available for just about anyone in the world! Beauty, wellness, travel and community, that's the Seacret sauce—it's a lifestyle."
The Smiths relationship with Jesse Macpherson, one of the top distributors in Seacret Direct, began in the industry together as Team Freedom. Their paths took them to competing companies yet crossed over a decade later due to a lasting friendship and a little healthy competition. Their history, experience, respect for one another and the potential of an incredible future by joining forces and helping so many people succeed made the decision easy to make.
Decades of direct selling savvy in team building and sales combined with break-through products and systematic business growth have allowed Mark and Tammy to become top income earners in the industry. The Smith's agree that what attracts incredible people to Team Freedom is the fact that the team focuses on personal development, living a life of contribution and building a culture with class.
About Seacret Direct
Founded in 2005, Seacret Direct develops, manufactures and sells premium nutrition and skincare products that combine Dead Sea minerals and other clean ingredients with new technologies and scientific breakthroughs. Manufactured in Israel and headquartered in Phoenix, Arizona, Seacret skincare products offer mineral combinations found only in the Dead Sea.
Seacret products were sold in many countries before the company adopted the direct selling business model in 2011. Since then, Seacret continues to be recognized on the DSN Global 100 list for its global impact of the industry on economic and social realms. For more information, visit seacretdirect.com.
Recommended Distributors Seacret Direct