Angie Harper Achieves Elite Pro 8 Ranking With LifeVantage
January 13, 2021
By Team Business For Home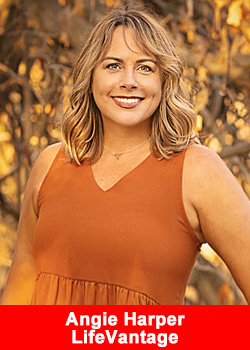 Bay Area (USA) resident Angie Harper is no stranger to running a business. After ten years as an elementary school teacher, she spent nearly a decade running Tumble Time, a mobile gym for children.
However, over time, stress from the pressures of balancing a growing business with raising a family prompted her to look for ways to stay healthy and active.
Angie started taking Protandim®, the "little yellow pill," in hopes that she could find a solution. Ultimately she not only found help with maintaining her health, but she also decided to take a leap of faith by selling Tumble Time and committing to being a LifeVantage Distributor after three months of using the product.
Angie's interest in LifeVantage was spurred by her positive health results with Protandim®, but she also quickly fell in love with the work itself for the opportunity it provided to use the skills she developed in her previous careers. She now uses her business ownership know-how to propel her to success* and her teaching ability to mentor other entrepreneurs who hope to follow in her footsteps at LifeVantage.
"Building a team is the best part of this business because I get to be a 'teacher' and a mentor still and that makes my heart sing more than any accomplishment I personally achieve,"
​she says.
Angie continues to find personal development in her work with LifeVantage, stating that she has learned persistence and gotten a thicker skin as she shares that little yellow pill that changed her life with others. ​"'No' doesn't mean 'never'–keep planting those seeds,"​ she says. She has learned that doing something well doesn't require reinventing the wheel.
Working with LifeVantage has also brought positives into Angie's family life. She is grateful she can be consistently present for her two sons, Ryan and Nick, who are now 16 and 14.
"LifeVantage has allowed me to live life on MY terms. I choose when I want to work and when I want to play. My kids have their mom home for them,"​ she says.

In addition, Angie feels greater confidence for herself and her husband, Garrett, as they plan for retirement. "Not that I will ever retire, but just in case!" she quips.
That's right—Angie has no intention of slowing down as she continues to ascend in her LifeVantage rank. ​"​This business rewards you for working hard," she says. "The only way to success is to keep going and never quit."
About LifeVantage
LifeVantage Corporation (Nasdaq: LFVN) is a pioneer in Nutrigenomics – a new science dedicated to biohacking the human aging code. The Company engages in the identification, research, development, and distribution of advanced nutrigenomic dietary supplements and skin and hair care products, including its scientifically-validated Protandim® product line, Omega+ and ProBio dietary supplements, its TrueScience® line of Nrf2-infused skin and hair care products, PetandimTM for Dogs, Axio® energy drink mixes, and the PhysIQTM weight management system. LifeVantage was founded in 2003 and is headquartered in Salt Lake City, Utah. For more information, visit www.lifevantage.com.​
*Distributor success depends on individual diligence, work effort, and market conditions. LifeVantage does not guarantee any income or rank success. For the company's Average Annual Earnings Disclosure by rank, visit lifevantage.com.
Recommended Distributors LifeVantage