ByDzyne's Back Office Secures MarCom Platinum Award
January 2, 2021
By Team Business For Home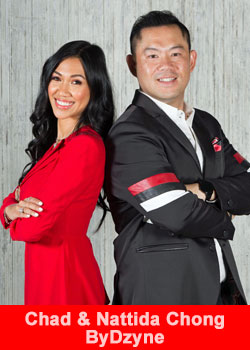 ByDzyne is ending the year with another major feat as it is now an official recipient of MarCom's 2020 Platinum Award, being recognized for its Back Office teamwork and success.
MarCom, founded in 1995 and one of the most-respected international marketing and communication competitions, honors professionals and businesses that showcase excellence in creativity, quality, and resourcefulness.
The Platinum Award, MarCom's most prestigious honor, was presented to only the top 17% of over 5,000 entrants this year, and also include major companies Google, Qualcomm, Adobe, AIG, PepsiCo and Mastercard.
"It is truly an honor to receive this award, and all credit goes to our in-house IT team and everyone involved in making our Back Office the top of its class,"
shared Chad Chong, co-founder of ByDzyne.
"From day one, it was always about ensuring that each of our Brand Ambassadors had everything they needed to help them succeed, and that of course included an exceptional Back Office." 
With over 40 years of combined experience in the industry, the IT team has constructed a revolutionary platform for ByDzyne users; with just one click, each individual has their business, and ultimately their future at their fingertips.
Access includes but is not limited to highly-detailed reports, downloadable marketing material, real time data, automated recognition banners, and live commission updates. The layout also features a sleek and modern interface, is extremely user-friendly, and makes growing a business simple and straightforward for all its clients, regardless of age, experience, or location. It really has been designed as an all-inclusive online toolkit for each user.
According to Gustavo Salinas, one of the most prominent network marketing figures in the world and ByDzyne's first ever Crown, ByDzyne's Back Office is a professional gamechanger.
"I have been in the industry for seven years now, and I have to say this Back Office is by far the best I have ever worked with," exclaimed Salinas. "It is the Ferrari of systems, and we are all so blessed and grateful for having such a professional one and an amazing team working with us to bring ByDzyne to the top of the industry."  
The award is yet another highlight for ByDzyne, and is one of the many reasons it is already listed in the Top 10 companies of Business For Home's "Top Direct Selling Companies for 2021."
Español
ByDzyne está terminando el año con otra hazaña importante, ya que ahora es un ganador oficial del Premio Platinum 2020 de MarCom, siendo reconocido por el trabajo en equipo y éxito de su Back Office. MarCom, fundada en 1995 y siendo una de las competencias internacionales de marketing y comunicación más respetadas, honra a profesionales y empresas que demuestran excelencia en creatividad, calidad y recursividad.
El Premio Platinum, el honor más prestigioso de MarCom, fue entregado sólo al 17% de los más de 5.000 participantes este año, y también incluye a las principales empresas como Google, Qualcomm, Adobe, AIG, PepsiCo y MasterCard.
"Es un verdadero honor recibir este premio, y todo el crédito se destina a nuestro equipo interno de IT y a todos los involucrados en hacer de nuestra Back Office la mejor de su clase", compartió Chad Chong, cofundador de ByDzyne. "Desde el primer día el propósito era asegurar que cada uno de nuestros Embajadores de Marca tuviera todo lo que necesitaban para ayudarlos a tener éxito, y eso, por supuesto, incluía un Back Office excepcional". 
Con más de 40 años de experiencia conjunta en la industria, el equipo de IT ha construido una plataforma revolucionaria para los usuarios de ByDzyne; con un solo clic, cada individuo tiene su negocio y, en última instancia, su futuro al alcance de su mano.
El acceso incluye, pero no se limita a, informes altamente detallados, material de marketing descargable, datos en tiempo real, banners de reconocimiento automatizados y actualizaciones de comisiones en vivo. El diseño también cuenta con una interfaz elegante y moderna, es extremadamente fácil de usar, y hace que el crecimiento de un negocio se vuelva simple y sencillo para todos sus clientes, independientemente de la edad, la experiencia o la ubicación. Realmente ha sido diseñada como un kit de herramientas virtual totalmente inclusivo para cada usuario.
Según Gustavo Salinas, una de las figuras de marketing en red más destacadas del mundo y el primer Corona de ByDzyne, el Back Office de ByDzyne es un cambio de juego profesional.
"He estado en la industria durante siete años, y tengo que decir que este Back Office es de lejos el mejor con el que he trabajado", exclamó Salinas. "Es el Ferrari de los sistemas y todos estamos muy bendecidos y agradecidos por tener un sistema tan profesional y un equipo increíble que trabaja con nosotros para llevar a ByDzyne a la cima de la industria".
El premio es otro punto culminante para ByDzyne, y es una de las muchas razones por las que ya figura en las 10 principales empresas del "Top de Empresas de Venta Directa para el 2021" de Business For Home.
About ByDzyne
ByDzyne's multi-faceted approach disrupts the traditional industry model by first understanding that one size DOES NOT fit all. You were born into a particular culture, with unique tastes, interests, and desires. Therefore, ByDzyne™ was created with a purpose to celebrate your uniqueness and empower your extraordinary potential. The company's exceptional "culture-crafted" products meet distinct needs in key consumer markets, and their lucrative business opportunity was formulated to fuel your ideal lifestyle, as YOU see fit.
This customizable approach is a driving force that propels everything ByDzyne does and will do in the future. They proved this by already establishing 4 distinct verticals: Technology, Training, Travel and Transform. And 8 industries are represented in these diverse categories of products and services: Forex, Online Marketing, Internet of Things (iOT), Lifestyle, CBD, Skincare, Weight Management, and Wellness. At ByDzyne's core, they believe that this "Power of Choice" offers not just opportunity, but security.
Ultimately, the perfect home-based business would have a catalog full of ever-evolving products and services, that would be relevant to all people, available in all markets, and at a price point that everybody can afford.
ByDzyne's mission is to be the most influential economic and cultural force in the industry. Thus, the goal is to continue to expand their global footprint into multiple verticals to maximize your income opportunities, capitalize on trends, and gain market share in upcoming industries as they advance. Their experienced executive team strives to stand apart from the pack, and build a legacy you can be proud of; one you can truly call home. We are ByDzyne™. Where limitations don't exist. For more information please visit www.bydzyne.com.