Calerie Names Roy Truett As CEO
January 6, 2021
By Team Business For Home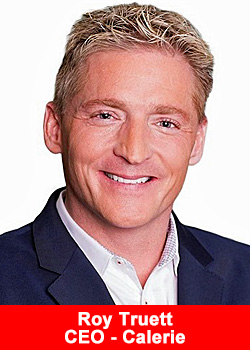 Roy Truett is announced as the Global CEO and Co-Founder of Calerie
Mr. Roy Truett is considered an expert and brings a unique skillset in launching Calerie with his more than two and a half decades of experience in the Direct Sales industry.
As an energetic and accomplished leader, he is also extremely well-versed in compensation plans, global expansion, operations, technology and sales strategies. Mr. Truett embodies creating a culture based on core values of ethics, transparency and placing the field first with his hard-working and enthusiastic approach.
"I am ecstatic for the beginning of this new era and building a company built for the field.I have been training for over two decades in preparing for this role.This position aligns with my core values of servant leadership, creating a company built on a strong foundation, and eliminating issues networkers may have experienced in their past.

I look forward to taking Calerie's mission around the world and making history on this journey together with our field leadership!"
Described by his peers as an energetic and accomplished leader, Mr. Truett has produced proven results during his tenure in this industry for companies at all levels.  In 2012, Mr. Truett was ranked #19 in the United States by ExecRank as one of the "Top COOs" for 2012. According to ExecRank, being named a top COO is a monumental accomplishment as the abilities to execute on operational efficiencies that improve profit margins and return on equity is the basis for the rankings. 
The CEO of USANA Health Sciences, said,
"To have our COO be named one of the best in the nation is quite an achievement, but it comes as no surprise to me because Roy Truett exemplifies efficiency.  He has been instrumental in the creation of lean operating practices and has championed progressive ideas in enterprise and technology. Our company has benefited greatly through the innovative work of Mr. Truett." 
Over 100,000 COOs were present in the United States, yet only a select few were awarded this distinguished honor. Weighed in heavily to the rankings are recommendations provided by CEOs and CFOs of the finalists. Mr. Truett was selected based upon his work and reputation in the industry as well as the high regard he received amongst other COOs.
Mr. Truett's tenure has included being part of the senior management team in all companies. He was a Public Officer at two publicly traded Top 100 Direct Sells Companies.  Prior to his most recent appointment, Mr. Truett served as President of Asia Pacific and Africa Region at Jeunesse Global.
Mr. Truett also served as President of International and then appointed as the President of Global Sales and Marketing at Nerium International.  Mr. Truett also served as the Chief Operating Officer and President of International at Mannatech, Inc.  In addition, Mr. Truett served as the Chief Information Officer and then appointed as the Chief Operating Officer of USANA Health Sciences. In all positions, Mr. Truett fostered change and championed progressive ideas in the enterprise, managed multiple areas throughout each organization and launched over 40 plus countries in his career.
About Calerie
Calerie will begin operations in the United States and Greater China Region beginning in January, 2021.  Calerie has an exclusive partnership for in-house manufacturing, R&D, and supply chain with 4Excelsior in their 152,066 square inch manufacturing facility.  The 4Excelsoir team is built up with a combined 50 years of knowledge in the dietary supplement and antiaging industry.  4Excelsior adheres only to the highest standards in procurement, formulation, manufacturing, and product testing.  4Excelsior is a GMP and FDA registered facility, which attains SQF level 2 certification, passing the requirements with an "Excellent" rating. In addition, they are NSF GMP certified facility consists of 16 humidity and temperature controlled clean rooms, a complete in-house laboratory, and fully automated machinery. 4Excelsior is certified by NSF GMP, NSF GMP for Sport, USDA Organic, SQF, Informed Choice, Halal, and Kosher. 
Calerie LLC was formed by long-term business partners, Mr. Steve Flipse and Mr. Lin Yisheng.  Since their introduction In 2007, these two industry veterans quickly understood the importance of vertical integration.  With a shared belief that everyone deserves a chance to live a long healthy life, Calerie uses the latest science to create cutting-edge nutritional supplements that intervene at the cellular level to boost longevity genes, energy metabolism, and immune function.  
Calerie is dedicated to creating the highest quality, high impact products that help consumers' look and feel younger, improve the quality of life, individual health and overall well-being, while creating an opportunity where the average person can achieve financial stability as a Brand Partner.  
For more information on how Calerie can help you live a better healthier life where Self Care Starts with Cell Care, please contact customer service at (877) 922-5374 or www.calerie.com.