Kena Smith Achieves All Star Rank At Velovita
January 11, 2021
By Team Business For Home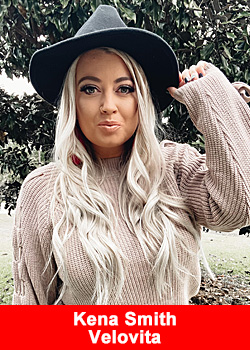 Kena Smith has earned luxury cars, top enroller statuses, and was a top 2% earner at the last company she worked for. But even after seven years in the MLM industry, she knew something bigger and better had to be on the horizon. As Kena was ready to take her career to the next level, so was Velovita.
Times weren't always easy when Kena was first starting her professional career. Kena, a wife to a veteran and stay-at-home mom of three children, attempted it all before finding network marketing.
Her husband being the main breadwinner of the household had a lot of the financial burdens fall on him. And after many years, as well as multiple on and off jobs, Kena was feeling stuck professionally. She Knew she needed to make an impact for herself, and others, through network marketing.
Kena Smith stated:
"My drive for remaining in this industry is to make an impact. I believe this industry is about the people in it and the vision for a different way of doing things to better fit a lifestyle that you want, instead of being stuck in a lifestyle society says you are supposed to have.

As long as there are women out there who are in the place I used to be, feeling stuck and powerless in their circumstances, then I will be there to show them there is a way they can absolutely take control of their life."
Those early obstacles didn't stop Kena. She knew there was more to be achieved, both financially, as well as personally in the industry. Through her hard work and dedication, she managed to find a work-from-home, home, in Velovita.
"Everything about Velovita immediately aligned with what I had been searching for. Everything was solid. From the well thought-out and beautiful branding, to the unique and impactful product, but most importantly a solid foundation to build on backed with years of experience.

The company is running so smoothly in a pre-launch period that I can't even imagine what the upcoming years will hold. I feel like Velovita is a company I can attach my name to proudly."
said Kena Smith
Now with Kena Smith joining industry leaders Kosta Gara and Jeffrey Mack at Velovita, along with their quality products and business expertise, taking her career to the next level is on the horizon.
"Kena is a great fit here.  A tireless servant leader who is helping, motivating, and raising up many others. We are excited about the thousands she will help this year and years to come. We could not be prouder to have her with us!"
Stated Jeffrey Mack, Velovita President
About Velovita
Founded on 90+ years of operational and field success, Velovita is set to become a global leader of innovation in the field of biohacking, social selling, community expansion, and support for the new world entrepreneur.
Their mission is to provide an ecosystem of inspiration, education, and life enrichment. Velovita has a singular focus on the individual to increase their daily performance both mentally and physically. For more information on Velovita, please visit Velovita.com or Velovita's Facebook page. You may also contact us at [email protected] To join the new movement, click here for the Velovita Member Rewards. We know you'll #LOVIT!
Recommended Distributors Velovita