Lyconet Online Sensation Is Entering The Next Stage
January 14, 2021
By Team Business For Home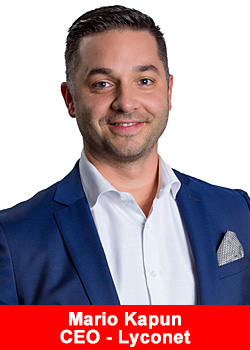 With the Lyconet Online Sensation in January 2021, Lyconet is offering Marketers the best professional development and is creating the perfect conditions for those who are interested to establish their own business.
A new year has dawned. A new year in which personal and professional development is of utmost importance. With this in mind, Lyconet is paving the way for its Marketers, as well as interested people around the world, to optimise their start into a promising new year with the second edition of the Lyconet Online Sensation on the 30th of January 2021.
Recognise and utilise opportunities
Lyconet's goal is to promote people around the world and assist them in reaching their full potential. The company offers the optimal conditions to become successful in a whole way. This is particularly true for motivated individuals who wish to work on their personal development. Mario Kapun, CEO of Lyconet International states,
"We are an innovative company, which is constantly expanding. Therefore, we welcome anyone who wishes to prosper and chooses Lyconet. Lyconet is the business model of the future".
Lyconet Marketers have the complete freedom to arrange their working hours to suit their personal needs, from anywhere in the world. This event doesn't only equip Marketers with all the updates surrounding Lyconet and international sales activities but also offers them valuable tips on how to advance their business. The translation service, which is available in 25 languages, including sign language, is the ultimate highlight of the Lyconet Online Sensation.
A wealth of knowledge
Naturally, Hubert Freidl, founder and owner of the myWorld group, as well as Mario Kapun will be presenting the January edition of the Lyconet Online Sensation. Furthermore, the participants will not only be privy to fascinating insights and pointers from Marketers all over the world, but also the network marketing pro, Eric Worre.
In addition to these success stories, corporates from the myWorld group of company will provide valuable input. There will, of course, be further well-known speakers lined up. The anticipation, to learn which guest speakers Lyconet has brought on board for this special event, will be great, amongst the participants.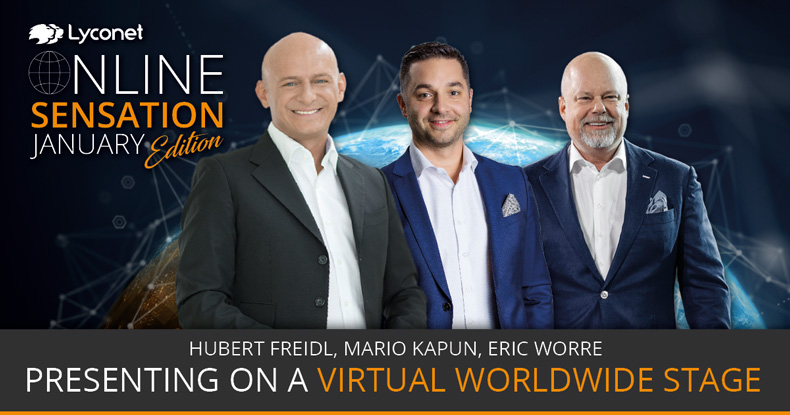 Secure a ticket code and participate!
Lyconet Marketers should secure their ticket-codes for the Lyconet Online Sensation in January 2021 now, by going to www.lyconet.com to ensure they do not miss this exceptional event. Of course, Marketers are also cordially invited to pass ticket-codes on to acquaintances who are interested and motivated, and in so doing share their excitement for this event and for the world of Lyconet.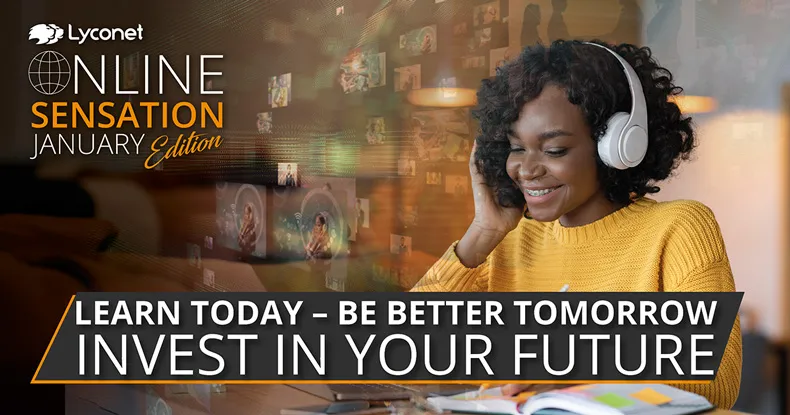 People who are interested in the world of Lyconet and may themselves wish to become a Marketer, can utilise the events Facebook page to easily exchange ideas with each other and to connect with Marketers who are in possession of ticket-codes. These ticket codes are required to register for this inspirational event at www.lyconet-online-sensation.com. Once registered nothing can stand in the way of participating in the Lyconet Online Sensation.
About Lyconet
The Lyconet brand offers those who are interested the opportunity to establish one's own shopping network as an independent entrepreneur, to enthuse consumers across the world with the benefits of the Cashback World Shopping Community and to sell customer loyalty programs to small and medium-sized enterprises.
As a network marketing specialist, Lyconet provides a wide range of professional training, services and tools, in order to offer its sales partners (Lyconet Marketers) the best possible support in their business activities.
Lyconet thereby ensures that the network is continuously expanded in terms of Members, Loyalty Merchants and Lyconet Marketers. For more information please visit www.lyconet.com