Velovita Introduces 2nd Flagship Product And Revolutionary $5 Global Shipping
January 5, 2021
By Team Business For Home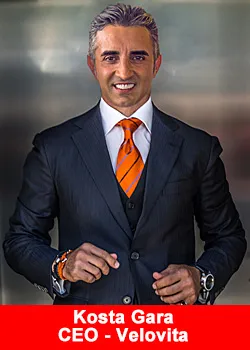 In their New Year kick-off zoom, Velovita added more fuel to their already growing fire by introducing Zlēm (pronounced Zleem), another unique and highly effective biohacking solution for better sleep and body slimming.
Building on their very popular first flagship product, Brān Reimagined; Zlēm adds more nootropic power, giving an additional nutrient boost to the brain, but in a formula that helps deliver a deep, restful sleep while reducing the effects of stress and increasing your body's night-time renewing ability.
Also, in its high-performance proprietary formula, Zlēm contains a unique scientific advancement that actually delivers many of the benefits that typically come from rigorous exercise, known as exercise factors. Exercise factors are signals sent to increase lean muscle production, torch fat, and reduce caloric intake.
Alone, Zlēm is a highly effective weight management solution, but when combined with Brān, becomes a secret weapon in our efforts to be at our best mentally, physically, and emotionally twenty-four hours a day.
If that wasn't enough, Velovita then shocked the zoom participants by introducing an Industry first; a $5 flat-rate shipping to all of their members in any of their global markets.
"From the start, it was our goal to not only create a business with our own, innovative and effective formulations but also to allow our Members to enjoy a true customer-friendly e-commerce business model and generate a meaningful income whether they build a team or not.

Our $5 domestic flat rate, 2-day shipping has given our members something they can truly use as a platform that, along with our products themselves, creates a value proposition never before seen in our industry.  Now, as we extend that benefit to all our markets, we welcome new members from around the globe to enjoy business reimagined."
Stated Kosta Gara, Velovita CEO.
After significant growth since their opening day on May 5th, 2020 ended with a bang as their trend continued with a triple-digit percentage increase in December, something that is virtually unheard over the holidays.  Now with these latest announcements, Velovita ensures themselves to be the talk of the industry in 2021 and a soon to be household name.
"We are committed to innovating; to taking a good model and updating it, making it better.  From packaging, to product efficacy to dot-com era fulfillment, Velovita represents a truly unique opportunity in the social selling arena. 

Seeing the results of those members who shared our vision and joined us early confirms that Velovita is an idea whose time has come and those that join us in 2021 and beyond will #LOVIT!"
About VELOVITA
Founded on 90+ years of operational and field success, VELOVITA is set to become a global leader of innovation in the field of biohacking, social selling, community expansion, and support for the new world entrepreneur. Their mission is to provide an ecosystem of inspiration, education, and life enrichment. Velovita has a singular focus on the individual to increase their daily performance both mentally and physically.
For more information on VELOVITA, please visit Velovita.com or Velovita's Facebook page. You may also contact us at [email protected]. To join the new movement, click here for the Velovita Member Rewards. We know you'll #LOVIT!
Recommended Distributors Velovita