Araceli Valdez From Mexico Achieves Elite Pro 7 Rank At LifeVantage
February 18, 2021
By Team Business For Home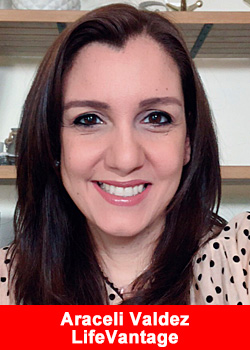 Despite Economic Uncertainty Caused by Pandemic, Araceli Valdez Attains Elite Pro 7 Ranking With LifeVantage
Araceli Valdez of Guadalajara, Mexico, first discovered LifeVantage in 2016. At the time, only TrueScience®, LifeVantage's line of skin and hair products, was available in Mexico. As Araceli researched LifeVantage's products, she was powerfully impacted by the research and science behind the products and saw an opportunity to create a market for other products in LifeVantage's lineup.
"I couldn't believe that this existed and was not known in Mexico," she said.
Araceli became a distributor and quickly moved through the ranks, attaining Premier Pro 5 in a matter of months.† As she and her husband, Carlos, incorporated Protandim® into their health routines, they started seeing differences within the first month.*
"This is something great. All people should know that this exists," she realized. "One by one, person by person, through education and information, we can change the world."
Now, Araceli has achieved the Elite Pro 7 ranking.
"My family is very close, and we have created this project together," she says of her success.† "The organization, time management, and working from home maintaining professional and personal balance has not been easy, but I have had all the support of my husband and children, as well as my team and my mentors."
Through her experience in different careers, including industrial engineering, real estate, and marketing, Araceli has a multi-faceted, flexible approach to finding solutions through the unique challenges the last year has brought. She has been working hard to evolve from the physical market to the digital market as the global pandemic has decreased person-to-person interaction. She attributes her success to the tools LifeVantage brought to the table with their e-commerce platform and her team's willingness to learn effective online collaboration.
"This allowed us, in the year of the greatest economic challenge, to continue to grow rapidly. Thanks to the LifeVantage e-commerce platform and its strategic corporate vision, our entire business continued to be successful, even during the pandemic."
Araceli's passions include traveling, meeting new people, and having good conversations. She loves being with her husband, Carlos, and her children, Carlos and Mia. She finds that working for LifeVantage has afforded her the flexibility to have these experiences both in her work and home life.
She feels grateful that she can be an example to her children of earning money in a way that contributes to the lives of others, and that she can have fulfilling relationships with her team members.† "LifeVantage is a great life project," she says. "Now I enjoy everything, one day at a time."
About LifeVantage
LifeVantage Corporation (Nasdaq: LFVN) is a pioneer in Nutrigenomics – a new science dedicated to biohacking the human aging code. The Company engages in the identification, research, development, and distribution of advanced nutrigenomic dietary supplements and skin and hair care products, including its scientifically-validated Protandim® product line, Omega+ and ProBio dietary supplements, its TrueScience® line of Nrf2-infused skin and hair care products, PetandimTM for Dogs, Axio® energy drink mixes, and the PhysIQTM weight management system.
LifeVantage was founded in 2003 and is headquartered in Salt Lake City, Utah. For more information, visit www.lifevantage.com.
*This statement has not been evaluated by the Food and Drug Administration. This product is not intended to diagnose, treat, cure, or prevent any disease.
†Distributor success depends on individual diligence, work effort, and market conditions. LifeVantage does not guarantee any income or rank success. For the company's Average Annual Earnings Disclosure by rank, visit lifevantage.com.
Recommended Distributors LifeVantage