ByDzyne's BOS.Club Wins AVA Digital Awards' Gold Award
February 18, 2021
By Team Business For Home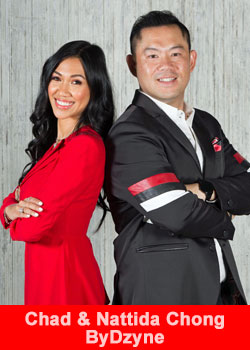 ByDzyne's 'Year of Expansion' has overflowed into its trophy cabinets, as the company hauled in yet another honor this year, this time being rewarded with AVA Digital Awards' prestigious Gold Award for its BOS.Club website concept and design.
AVA Digital Awards, founded in 1994 and has had over 200,000 entries since its inception, is an international competition that recognizes individuals and organizations that excel in planning, direction, visual engagement, creativity, production and delivery of digital communication.
The Gold Award has historically been presented to only 17 percent of over 2,500 entrants each year, and in 2021 also includes well-known companies AT&T, AIG, Rakuten, State Farm Insurance, and AAA.
"What an incredible achievement for ByDzyne to receive this award," declared Nattida Chong, co-founder of ByDzyne. "When we launched BOS.Club, our goal was for it to be revolutionary in its service, design, affordability, and delivery, and I believe this award confirms that we accomplished just that."
BOS.Club, the world's first direct sales and e-commerce hybrid model, was launched last September and has gained substantial feedback for its viability and global impact. Top leader Christian Nuñez, ByDzyne's first ever Crown from Peru, believes it's been monumental."
"BOS.Club is a vision come true; it was exactly what I was dreaming of, an E-commerce model that allows each entrepreneur to build residual income," shared Nuñez. "The concept is incredible because it allows us to be a multivertical where we can capture trends and always think about what's best for the client. This model is disruptive and is making a big difference in our industry."
The difference can be felt right away when you sign up with BOS.Club as its highly-acclaimed website delivers on every front. It is attractive, contemporary, and timeless—the colors are riveting, navigation is completely user-friendly, and shopping discounted products of up to 50 percent off has never been simpler. Its functionality is also sophisticated, as users are able to easily manage their BOS.Club subscription, track previous orders, view real-time savings, and send exclusive referral links to friends and family all through the same platform.
ByDzyne also received Honorable Mention in the Digital Marketing category, crediting the company for its promotion of its exclusive BOS.Club Rewards Program, which includes discounted product and services pricing, destination giveaways, and sale incentives.
It's only been six months since it first premiered, but BOS.Club has already made tidal waves in the industry. For a company inspired by ever-evolving innovation, we can only expect that BOS.Club will continue to unlock new trends, possibilities, and opportunities for all.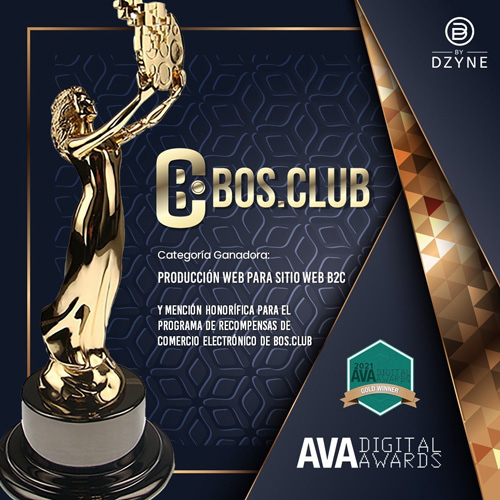 BOS.Club de ByDzyne gana el premio de oro de los AVA Digital Awards
El "Año de Expansión" de ByDzyne se ha desbordado en sus vitrinas de trofeos, ya que la empresa se ha llevado otro honor este año, esta vez siendo recompensada con el prestigioso Premio de Oro de AVA Digital Awards por su concepto y diseño del sitio web BOS.Club.
Los AVA Digital Awards, fundados en 1994 y que han recibido más de 200.000 candidaturas desde su creación, son un concurso internacional que reconoce a las personas y organizaciones que destacan en la planificación, dirección, compromiso visual, creatividad, producción y entrega de la comunicación digital.
El Premio de Oro se ha concedido históricamente solo al 17% de los más de 2.500 participantes cada año, y en 2021 incluye también a las conocidas empresas AT&T, AIG, Rakuten, State Farm Insurance y AAA.
"Qué increíble logro para ByDzyne recibir este premio", declaró Nattida Chong, cofundadora de ByDzyne. "Cuando lanzamos BOS.Club, nuestro objetivo era que fuera revolucionario en su servicio, diseño, asequibilidad y entrega, y creo que este premio confirma que lo hemos conseguido".
BOS.Club, el primer modelo híbrido de venta directa y comercio electrónico del mundo, se puso en marcha el pasado septiembre y ha obtenido importantes comentarios por su viabilidad e impacto global. El líder Christian Nuñez, el primer Corona de ByDzyne de Perú, cree que ha sido monumental".
"BOS.Club es una visión hecha realidad; era exactamente lo que estaba soñando, un modelo de comercio electrónico que permite a cada empresario construir un ingreso residual", compartió Nuñez. "El concepto es increíble porque nos permite ser una multivertical donde podemos captar las tendencias y pensar siempre en lo mejor para el cliente. Este modelo es disruptivo y está marcando una gran diferencia en nuestra industria."
La diferencia se nota desde el primer momento en que te registras en BOS.Club, ya que su aclamado sitio web cumple en todos los frentes. Es atractiva, contemporánea y atemporal: los colores son fascinantes, la navegación es completamente fácil de usar y comprar productos con descuentos de hasta el 50% nunca ha sido tan sencillo. Su funcionalidad también es sofisticada, ya que los usuarios pueden gestionar fácilmente su suscripción a BOS.Club, hacer un seguimiento de los pedidos anteriores, ver los ahorros en tiempo real y enviar enlaces de recomendación exclusivos a amigos y familiares, todo ello a través de la misma plataforma.
ByDzyne también ha recibido una mención de honor en la categoría de marketing digital, en la que se reconoce a la empresa por la promoción de su exclusivo programa de recompensas BOS.Club, que incluye descuentos en los precios de los productos y servicios, sorteos de destinos e incentivos de venta.
Sólo han pasado seis meses desde su estreno, pero BOS.Club ya ha causado sensación en el sector. Para una empresa inspirada en la innovación en constante evolución, sólo podemos esperar que BOS.Club siga abriendo nuevas tendencias, posibilidades y oportunidades para todos.
About ByDzyne
ByDzyne's multi-faceted approach disrupts the traditional industry model by first understanding that one size DOES NOT fit all. You were born into a particular culture, with unique tastes, interests, and desires. Therefore, ByDzyne™ was created with a purpose to celebrate your uniqueness and empower your extraordinary potential. The company's exceptional "culture-crafted" products meet distinct needs in key consumer markets, and their lucrative business opportunity was formulated to fuel your ideal lifestyle, as YOU see fit.
This customizable approach is a driving force that propels everything ByDzyne does and will do in the future. They proved this by already establishing 4 distinct verticals: Technology, Training, Travel and Transform. And 8 industries are represented in these diverse categories of products and services: Forex, Online Marketing, Internet of Things (iOT), Lifestyle, CBD, Skincare, Weight Management, and Wellness. At ByDzyne's core, they believe that this "Power of Choice" offers not just opportunity, but security.
Ultimately, the perfect home-based business would have a catalog full of ever-evolving products and services, that would be relevant to all people, available in all markets, and at a price point that everybody can afford.
ByDzyne's mission is to be the most influential economic and cultural force in the industry. Thus, the goal is to continue to expand their global footprint into multiple verticals to maximize your income opportunities, capitalize on trends, and gain market share in upcoming industries as they advance. Their experienced executive team strives to stand apart from the pack, and build a legacy you can be proud of; one you can truly call home. We are ByDzyne™. Where limitations don't exist. For more information please visit www.bydzyne.com.