Dr. Jenelle Kim Of JBK Wellness Labs Joins Hülsa Wellness
February 9, 2021
By Team Business For Home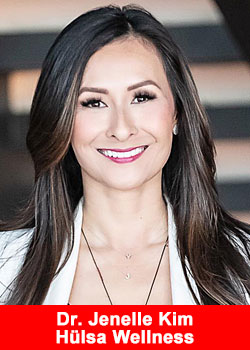 JBK Wellness Labs Founder Dr. Jenelle Kim has partnered with Hülsa Wellness, a premium Critical Cannabinoid™ wellness and beauty company.
She serves as Hülsa's Chief Formulator & Educator, bringing her vast experience in ancient herbology to Hülsa's line of purpose-driven products.  
Hülsa Wellness is led by a team of experts in the cannabis and hemp space, as well as seasoned direct sales leadership. Partnering with Dr. Kim enables Hülsa's Brand Partners, social influencers, and customers to access unduplicatable Critical Cannabinoid™-rich formulations powered by science and ancient herbal wisdom.
JBK Labs brings decades of product formulation experience — plus Dr. Kim's secret herbal formulations passed through her lineage for centuries — with a specialty in herbology to Hülsa. JBK is best known for its Bi Bong® formulations, which have deep roots in Traditional Oriental Medicine.
Dr. Kim shares:
"Bi Bong, which is Korean for 'secret formula,' are formulations that my ancestors devoted their entire lives to in order to find ways to improve the human condition – mind and body. Cannabis is one of the 50 fundamental herbs of Chinese medicine. Cannabinoids, which come from the hemp plant, a cannabis varietal, are powerful compounds."
Dr. Kim is the first woman in her line of lineage to steward the Bi Bong® formulations. Dr. Kim explains that whether it's for beauty, digestion, or muscle and joint issues, Bi Bong® formulations are adaptogenic blends properly balanced to make ingredients like CBD or other herbs more bioavailable — meaning having an exponential active effect on the body.
Dr. Kim continues:
"Anyone can put herbs into a product and call it 'herbal,' but that is not herbology. Herbology means understanding precisely what that herb actually does and how each of those ingredients within a formula interact with one another for the greatest effect in the body. That is what we do.

We are very selective about what companies we partner with. Given Hülsa's commitment to quality, a focus on clean ingredients that have an impact, plus its extensive background in the hemp and cannabis space, it made perfect sense." 
Hülsa is adding powerful Bi Bong® formulated products to its Critical Cannabinoid™ product offerings beginning with its new Sleep formulation. With this partnership, Hülsa will have exclusive rights to use Bi Bong® in conjunction with cannabinoids to expand Hülsa's product offerings with Bi Bong® formulations.
David Berck, formerly a top 500 ranked distributor who serves as Hülsa's President, shares:
"Here at Hülsa we are creating authentic Critical Cannabinoid™ products that go beyond CBD — we take a holistic approach to our formulations and obsess over quality. With Dr. Kim and JBK's partnership, we are truly ushering in a new era of purpose-driven cannabinoids amalgamated with ancient herbology expertise. The opportunities created by this partnership are endless."
Berck also explained that Hülsa extracts cannabinoids from Colorado-grown organic hemp and all products are third-party lab tested with Certificate of Analysis (COA) that are easily accessible from a smart device or online.
 About Hülsa Wellness
Colorado-based Hülsa Wellness Critical Cannabinoid™ wellness and beauty products are distributed through a direct sales model. Each Hülsa product is meticulously crafted using the highest-quality botanical ingredients infused with CBD-rich Critical Cannabinoids™ to deliver a truly clean wellness experience.
Driven by a deep-seated passion for sharing the benefits of not just CBD, but other essential cannabinoids found in the hemp plant, Hülsa ushers in a new era of self-care with rigorously tested, obsessively transparent, and flawlessly elegant cannabinoid offerings. Hülsa empowers its Brand Partners (direct-sales representatives) with a generous compensation plan, technology-driven tools, and an abundance of resources for their success.
Hülsa products range from daily wellness endocannabinoid support to topical skincare products, sleep aids and more with expanded offerings coming soon.  For more information please visit www.Hulsawellness.com