Fabian Zierhut From Austria Achieves Black Crown Rank At Zinzino
February 21, 2021
By Team Business For Home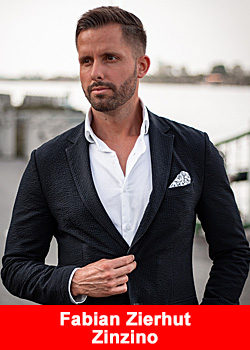 Fabian Zierhut is a high school drop out from Vienna, Austria who got introduced to the direct selling industry about 6 Years ago.
Before he joined the industry, he was working in sales, jumping from one job to another looking for an opportunity that has more to offer than a regular job. After many years working traditional jobs at the age of 28 he found the profession that he wanted to win at. He immediately fell in love with it.
The first 3 years of his career was just learning and developing skills. He couldn't see any monetary success but knew he was on the right track sharpening his axe.
End of 2016 he joined Zinzino and within about two years he has climbed all the way up to the decent level of Royal Crown, while building and forming his organization part time. In this period of time he could learn a lot about himself and practical leadership.
Now as a Black Crown he is a Leader Council Member and  among the top leaders of the Company with a global team of 11.000 customers.
Recently Fabian moved to Dubai to expand his organization.
Fabian stated:
I´m forever grateful for my team that made all this a reality. The foundation is in place. And now it´s time to create one transformation after another. Test-based nutrition is the future.  I´m a life long student and I know that I have to work a lot on myself to become the person I want to become to positively impact the life of 1 million people around the world.

I can´t think of a better partner to make this all happen than Zinzino. I feel so good and safe about the future when I think of the the founders Hilde&Orjan Saele,  the CEO Dag Bergheim Pettersen, the corporate staff and all the incredible leaders in the company and in the team.
The test-based nutrition concept and the way HOW Zinzino is building the business reignites Fabian´s belief that this is the right place to be on a daily basis.
 About Zinzino
Zinzino AB (publ.) is a global Direct Sales company that markets and sells test-based nutrition, skincare and life-style products. Zinzino owns the Norwegian company BioActive Foods AS and the research and production unit Faun Pharma AS.
Zinzino is based in Gothenburg, with additional offices in Helsinki, Riga, Oslo, Florida and Adelaide. Zinzino is a public company and its shares are listed on Nasdaq First North Growth Market. For more information about Zinzino, please visit: www.zinzino.com.
Recommended Distributors Zinzino