Krystan Samaniego Brings Her Compassionate Leadership To Velovita
February 1, 2021
By Team Business For Home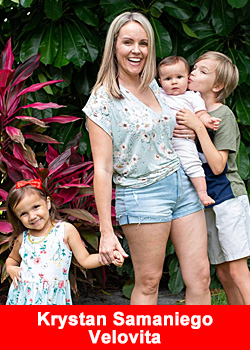 Krystan Samaniego is doing it all. From overcoming living paycheck to paycheck, to becoming one of the most impressive new network marketers in the industry today, Krystan is now realizing dreams with Velovita she never even had before.
Krystan's efforts go beyond the lives she's touched in the MLM industry with her drive and determination. Network marketing has also allowed Krystan the time she needs to help her family and many others.
"I am a wife and busy mom of 3 children, Caleb, Avery & Ryleigh. I am also an advocate for children of special needs, having a son with ADHD and on the Autism Spectrum disorder I have really learned to help other moms navigate the educational system to get the best for their children.

In addition, I am definitely an entrepreneur at heart, I have had my own Sign Language Interpreting business and worked as a Nationally Certified Sign Language Interpreter for 11 years. I love working with children in the Deaf Community."
Stated Krystan
Being there for her family, and others, has been an important driving force behind all of Krystan's endeavors. Krystan now looks to instill her wisdom and successful experience with her community.
"I have been involved in the MLM industry for 6 years. I love this industry because I love the community and self-development that this industry represents. I also love the business model because it is the best way for an individual to start their entrepreneurial journey with very low investment and maximum income potential for one's efforts!"
Now with Velovita, Krystan Samaniego has the opportunity to reach a greater audience than ever before. When asked about why she made the choice to join Velovita, Krystan had this to say: "Where do I begin?!
Velovita checked all the boxes for me in terms of what I was looking for in a Network Marketing company. I had been with good companies before, but I wanted a GREAT company.
Here at Velovita, they have the best leadership and experience in the industry. The company mission and leadership align with me because it is truly a company with integrity and professionalism.
The culture and collaboration drew me in as well because I wanted a team and group of leaders that understood that there is plenty of room at the top for those that are willing to work for it; there is such an abundance mentality here."
Krystan Samaniego's leadership and commitment is already being felt at Velovita. And she will continue to help others and give advice when needed to her fellow network marketers that are also trying to better their futures.
"If I could emphasize one point to current and future distributors it would be to set your goals, follow your dreams and no matter how hard, no matter the ups and downs; that goal and desire was placed upon your heart for a reason.

Do not give up! There will be times you feel like giving up but don't quit. Remember why you started and know you are worthy of your goals and dreams and the only way you won't achieve those goals is if you quit on them. The work will be worth it if you keep going."
Kosta Gara, Velovita's Founder and CEO, expressed his admiration for Krsytan Samaniego:
"What Krystan has done, and still continues to do, is what every entrepreneur should aspire to. She's not only a great mother and works hard running her business, she is also a role model. Velovita stands out from others because of amazing people like Krystan Samaniego"
About Velovita
Founded on 90+ years of operational and field success, Velovita is set to become a global leader of innovation in the field of biohacking, social selling, community expansion, and support for the new world entrepreneur.
Their mission is to provide an ecosystem of inspiration, education, and life enrichment. Velovita has a singular focus on the individual to increase their daily performance both mentally and physically. For more information on Velovita, please visit Velovita.com or Velovita's Facebook page. You may also contact us at [email protected] To join the new movement, click here for the Velovita Member Rewards. We know you'll #LOVIT!
Recommended Distributors Velovita