Seasoned MLM Veterans Nancy Ohanian And Enrique Olazabal Join AmpLIFEi
February 4, 2021
By Team Business For Home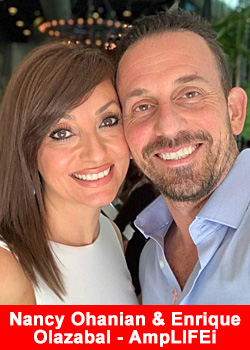 Seasoned MLM industry veterans Nancy Ohanian And Enrique Olazabal, with over 14 years of combined experience, have decided to join AmpLIFEi™, the new health and wellness company they believe is going to shake up the entire industry with products focused on gut-brain health.
AmpLIFEi™ is another company led by successful veteran owner Robert Oblon that is quickly becoming the next big company in the industry. Its HAPInss Brands™ offerings include products with exclusive technologies that are not only backed by science, but centered around the microbiome and the gut-brain connection.
Nancy and Enrique have an incredible love story, meeting 3.5 years ago through the industry where they fell deeply in love. Enrique has a son, while Nancy has two daughters, and they knew immediately they wanted more time and freedom to focus on blending their lives and family.
Nancy says:
"We knew immediately that we wanted to be together in life and in business,.With the recent pandemic we became more focused on what we were putting into our bodies, as were many of our team members. We knew we had to help as many people as we could to do the same. When we heard about HAPInss Brands™ product portfolio, it hit close to home. Our health is everything".
Enrique adds,
"We were searching for products in our own health and wellness journey. We found a perfect combination of proven products, with reliable systems, and a well-paying and lucrative balanced compensation plan".

Most importantly and exciting to watch is our team have more success than we could have ever imagined or anticipated.  Our entire team is winning, and we've only just begun. The icing on the cake for us is the company is founded by the same guy that started our last company, and someone we trust and would follow anywhere".
In just a few short weeks of joining AmpLIFEi™, Enrique and Nancy have already hit top positions within the company and are expected to hit the top rank in just a few short weeks.
"Enrique and Nancy are class-act in all they do and genuine leaders who know how to lead a team. We are super thrilled to see Nancy and Enrique reach new heights every single day and to see them become these exemplary individuals within the industry.

They are immensely passionate in helping others and have the leadership qualities that resonates with AmpLIFEi's core values. We look forward to great things together,"
shares Laura Harte, President of AmpLIFEi.
AmpLIFEi™ is rapidly expanding its HAPInss Brands™ line of products with exclusive technologies to compliment its already existing unique portfolio.  AmpLIFEi™ continues to demonstrate its ability to grow through its marketing division in both the US and Canadian markets and this is clearly attracting the attention of well-established brand leaders.
About AmpLIFEi™
Headquartered in Greenwood,Indiana, Amplifei™ and HAPInss Brands was founded in 2020 by Robert Oblon, who serves as Founder and Chief Executive Officer of both companies. Amplifei International is a health and wellness lifestyle company with exclusive marketing rights for Hapinss Brand's products serving freelance entrepreneurs.
These two Companies combined give customers and its freelance entrepreneurs more options to improve their lives in a more complete way. For more information about AMPlifei, please visit www.AmpLIFEi.com.