Sylvia Kivits From The Netherlands Achieves Diamond Rank At Valentus
February 17, 2021
By Team Business For Home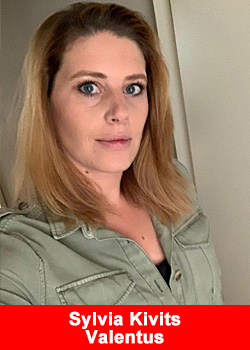 Sylvia Kivits stated upon her achievement:
After high school I went to a private hairdressing school, which was very expensive. I paid for it myself with a scholarship. When I got my diploma and I had a reasonable debt, I started working and paid this off slowly.
It was time to buy a house and I always had horses and I would like to have them at home in the pasture. I worked as a supermarket manager 60 hours a week and got pregnant. When I was pregnant, I realized this was not what I had bargained for. Working 60 hours and looking after the horses at home and renovating a house and children was all too much. Then my ex lost his job, and we couldn't afford the house anymore. We sold the house and were left with a debt.
There I was, separated, without a house and 2 small children. Fortunately I quickly got an apartment but everything was even more difficult there. I changed jobs because so much work was no longer possible in combination with the children. I could only work part-time and the income was not very high. It sometimes took quite a while to get everything paid, but I am quite creative so I could also save a little.
I have always been very entrepreneurial and started an online clothing store, this was difficult, there are already so many and it is difficult to manage against the big chains. Then I came across an advertisement on Facebook about this opportunity, got in touch and from the beginning it actually went really well. I earned half of my salary extra every month, and with that I could pay off my scholarship.
I had been with Valentus awhile and earned quite well, but something told me that it could be better and I thought I need to try out other company. Everyone knows that this is not the case, but sometimes you have to find out for yourself. I have come back to Valentus and now I will never leave. you cannot compare this company with other companies, the earnings are fantastic and the possibilities endless.
Once I had the idea to work with influencers my business exploded. Me and my team are growing every day. Every day there are people who also see and want to experience all the possibilities. The fantastic products are half the battle the rest it is positivity and working hours We have that everything possible. And everyone can work with this amazing live changing company.
Now my depts are paid off, I have my website and I have a beautiful bank account thanks to Valentus. I am always going to be a Valentus family member!
About Valentus
In Latin, the word "Valentus" means "prevail," defined as proving to be superior in strength, power, and influence. Recognizing that, we could n0t have picked a more fitting name for a company that strives to be the example in an industry that deserves a leader to follow.
Since day one, our focus, our passion, and our commitment have been to create a company, a product line, and an opportunity built on a foundation of integrity.
From creating significant levels of income, to building strong networks, healthy long-lasting relationships, making new friends, participating in activities you never even knew existed, having the time to do the things you love with the people you love to be with, VALENTUS can help you PREVAIL in ALL of your goals. For more information please visit www.valentus.com
*Earnings Disclaimer
Results may vary and are not typical- place after any testimonial or income claim statement. Earning levels, rank advancement or income statements (including claims such as the ability to quit a job or achieve a luxury lifestyle) discussed here exceed average results achieved by all Representatives during the same time period, and are not necessarily a representation of the success or compensation that any particular Representative will receive. These should not be considered typical or average and may vary from person to person.
The ability to earn income under the Valentus Compensation Plan depends on many factors including the Representatives sales, business and social skills and experience; personal ambition and drive; availability of time and financial resources; and access to a large network of family, friends, and business contacts.
Valentus cannot and does not guarantee any particular level of earnings. Even if a Representative, who dedicates a significant amount of time, effort, and money may not achieve a meaningful level of income with Valentus.