Teamwork Drives Seacret Direct Blue Diamond Rank Advancement For Jefferson Santos And His Wife Megan
February 20, 2021
By Team Business For Home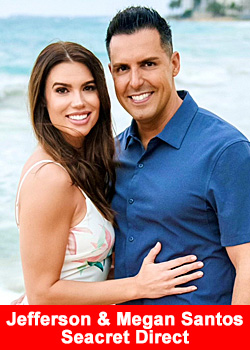 Jefferson Santos and his wife Megan know that moving up in business is achieved through lateral and vertical gains. With the recent Seacret Blue Diamond rank designation, Jefferson and Megan are primed to engage others and achieve more.
This teamwork mindset started early for Jefferson. Participating in organized football since elementary school, he is accustomed to working with a team and being held accountable by them. A fierce competitor, losing is not part of his plan.
A commitment to football took him through the U.S. Naval Academy and then Texas Christian University (TCU), and losses were a consistent backdrop. What made that pain even more frustrating, the year after leaving each of these institutions a winning record prevailed and, with it, championship rings were awarded.
Jefferson cites those as positive experiences in having the right shared support, all those years, from team players.
"When you doubt your own abilities or need motivation, in football you can draw on getting that from your teammates. Your network marketing team is no different. In fact, it is better. Because a winning season in network marketing at Seacret will go on and on…." 
With commitment and teamwork, Jefferson built a team of over a million people across over 40 countries and is part of the Network Marketing Hall of Fame.
After 25 years in the industry Jefferson looks to his success, in part, as a matter of bloodline. His mother introduced him to the merits of network marketing at an early age.
"My parents divorced when I was four years old. We struggled financially. Mom worked three jobs just to keep things going." Despite those circumstances, there remains a deep-rooted yearning to live a life filled with financial freedom and the quest to help others realize similar success. My belief and faith carried me until my skills could catch up." 
It took nearly twenty years of character-building work to attain a six-figure income. Jefferson remembers,
"I only sponsored three people in my first two years. But I always did the training." 
When looking for a new opportunity, the Seacret Direct line of products and Founder & CEO Izhak Ben Shabat presented the lifestyle success package Jefferson Santos and wife Megan were looking for.
"Understanding what it means to be a team player is so important to being a part of the Seacret family," says Izhak. "Jefferson and his wife Megan represent that well. We are encouraged by their passion for direct selling and igniting that kind of fire in others." 
Jefferson Santos and wife Megan met through network marketing and are looking to celebrate their 10-year anniversary in October. Together, they enjoy a new level of freedom that the Seacret business model enables and want to help facilitate the same for others.
"If I could help shorten the learning curve for others, what a big difference I can make. It's why I stay in the trenches of the field and work alongside other team players," Jefferson states. "Together, we can all win."
Seacret Direct is a service driven company. Launched with a direct-to-consumer model selling premium Dead Sea skincare products through kiosks, Seacret became the world leader in the space. From the lowest point on earth, with over 20 years of expertise and mastery, Seacret Minerals from the Dead Sea unlocks the potential of this legendary beauty spa that seduced Cleopatra and brings it directly to customers worldwide.
About Seacret Direct
Founded in 2005, Seacret Direct develops, manufactures and sells premium nutrition and skincare products that combine Dead Sea minerals and other clean ingredients with new technologies and scientific breakthroughs. Exclusively manufactured in Israel, Seacret skincare products offer mineral combinations found only in the Dead Sea. Seacret nutrition products are plant centered formulas and supplements for every body. The Seacret membership program rounds out the proposition of the lifestyle company serving an ever-expanding community.
Seacret products were sold in many countries before the company adopted the direct selling business model in 2011. Since then, Seacret continues to be recognized on the DSN Global 100 list for its global impact of the industry on economic and social realms.  For more information, please visit seacretdirect.com.
Recommended Distributors Seacret Direct