The "MLM Lion Of Africa" Charles Tambou Publishes Disrupt! A Guide To Network Marketing
February 27, 2021
By Team Business For Home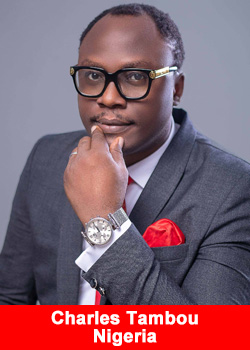 Disrupt! is a guide  written by Charles Tambou designed with practical steps to help you excel in the business of network marketing as a professional.
It chronicles the success journey of an amazing networker and the practicable strategies he applied to overcome the common challenges every network marketing professional faces in the business.
The book helps you to develop the mindset needed for dealing with rejection and clarifying your purpose for being in the industry and enables you to go through phases of network marketing through the power of consistency, thereby making you a better individual and having clear understanding of the rudiments of closing sales effortlessly and signing up new members to your team.
It exposes you to the strategies involved in maximising social media for building a formidable global team in network marketing business and comes with a 31-day workbook that gives you daily action points to work on as you prepare to move from one level to the other consistently as a professional in the network marketing business.
You can get your copy of the book and workbook on Amazon. https://amz.run/charlestambou
About Charles Tambou
Charles Tambou is the founder of the Global Bosses Network, a platform he passionately uses for inspiring up-and-coming network marketers with stories of veterans in the network marketing industry with the aim of lifting people out of penury and making them financially independent.
As a vastly experienced trainer, coach, network marketing professional and an entrepreneur, he has mentored several people both locally and internationally and won several awards, one of which is Top Network Marketer in 2019, bringing about the title "Lion of Africa" and becoming the first male in Africa to achieve this at his company within 11 months.
He is married to Omo Tams, the most beautiful woman in the world. Together, they have three lovely girls.