Xelliss Launches In The USA
February 4, 2021
By Team Business For Home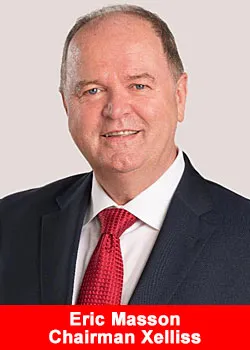 Eric Masson, Xelliss chairman stated:
"Our mission is to create a legacy company in North America with innovations in Biotechnologies for our customers and representatives…plus a revolutionary and lucrative pay plan that will attract Top Leaders from around the globe." 
Xelliss has unmatched expertise in creating cutting edge, and clinically proven products in the weight management, health and wellness, sports fitness and skin care markets for men, women, children, and even pets.
What sets Xellis products apart is their superior science and cutting edge indoor vertical farming process. Xelliss not only has an incredibly small footprint which is great for the planet but by growing their patented strains of microalgae inside a patented photobioreactor process… the purity, potency, value and results are unmatched and cannot be replicated.
What sets Xellis revolutionary pay plan apart is their proprietary software that instead of focusing on creating company breakage, it sources your team each pay period to maximize your rank through dynamic compression. A couple key components are "substantial monthly rank bonuses at most levels…for life…plus a 7 generation check match starting at up to 40%"
Jimmy Wan, Xelliss vice president Europe says,
"After 6 years of research and development, 10's of millions of dollars invested, and being a proud member of the Direct Selling Association in Europe, Xellis is poised to become one of the gold standard companies in North America…and soon the world.
  Xelliss, based in Luxembourg, which has the highest of standards for product efficacy and plans to market its products through an international network of distributors, soon to be in Australia and south Asia.
Culture is very important to Xelliss as well. They have attracted Top Leaders and industry coaches both in the field and on the corporate side.
Xelliss therefore offers everyone the opportunity to acquire financial freedom by creating their own business. Whether you are simply looking to improve your lifestyle with an additional income or are interested in a new thriving career, Xelliss is your opportunity to discover the real keys to success and happiness.
"Isn't true freedom being able to decide when and where we want to work, to choose our business partners and to determine how much we want to earn?"
points out the Xelliss chairman.
Xelliss is also committed to the sports sector and humanitarian work. Xelliss is focused on and strongly committed to the sports sector by providing support for athletes, whatever the level and frequency of training and/or competitions. By adopting the SPORT Protect label, Xelliss guarantees all athletes the assurance of products adapted to their needs, without the risk of inadvertent doping!
With its products aimed at everyone, and at sportsmen and women, Xelliss has also made sports sponsorship its main focus of communication through its commitment to top-level athletes.
"In all our activities, we place people at the heart of our concerns. This is why we are supporting a humanitarian project that involves transporting our patented microalgae to schoolchildren in countries where the population suffers from malnutrition,"
stated Eric Masson.
About Xelliss
Xelliss offers a range of natural and innovative products in the fields of well-being, nutrition and cosmetics, based on spirulina. Convinced of the advantages at our disposal by controlling a constant quality of spirulina throughout the year, we have developed cutting-edge technology to produce our own microalgae, with exceptional virtues for our cellular health.
Our goal is to create innovative product concepts to meet the specific nutritional needs of each of us. We distribute our products through direct sales and through our international network of partners. To join the Xelliss adventure, or for more information, go to www.xelliss.com.