APLGO Owner Sergei Kulikov Takes His 33rd Birthday Celebration To Kenya, Africa
March 14, 2021
By Team Business For Home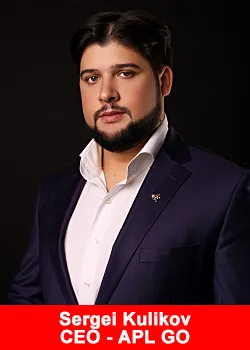 Kauri Thompson stated:
I have been in Network-Marketing for 21 years, I have never experienced anything like this. The commemorative diamond pin is still on my tux, I will wear it to our next event with fond memories of this remarkable event and next January, we will be ready to travel on a week's notice "Go Style" to his next birthday celebration destination.
As the sun began to dip below the horizon, you can feel the energy in the air begin to change. In Africa, the wildlife becomes active at night and if we were going to see any Hippo's this is our best chance. The 15 seat Toyota cruiser is a relentless hill-climber, we had been on safari going on three days. As we approached the lower tree line, the rains began to pour on the Kenya Mara Reservation.
Our vehicle slogged along the wet muddy trail until we heard the all too familiar sound of our wheels spinning and grinding once again – stuck in the mud. As rain begins to pour down, we quickly let down the rain flaps as we survey the situation. We are in Africa, on an incredible adventure that seems surreal.
We are here to celebrate APLGO's owner and our friend – President Sergei Kulikov's 33rd birthday.
In early January my phone rings, It's Sergei Kulikov the owner and President of APLGO. Sergei tells us through his translator that he is celebrating his 33rd birthday in Africa. The celebration is in 15 days, we begin immediately to prepare. We had heard that every year Sergei invites his top leaders and friends to celebrate his birthday with him. It can be anywhere in the world; Bali, Thailand, Europe etc.
The plan for 2021 was to meet in Vienna at a castle for the celebration, but covid recently shut down Europe the week before by restricting flights and adding covid testing protocols. Rather than canceling the event, Sergei does what he always does, he finds a way to make it happen. Sergei calls it "Go style" the mantra of complete focus to achieve one's goals. It is "Go Style" that propels Sergei in 2020 to expand his eight-year old company into the US and beyond. Against all obstacles, against all doubts, these new markets are established and thriving.
For this birthday celebration, his leaders and friends must find a way to get to Kenya. There are multiple covid tests, immunizations, passports/ visas, booked flights and heavy travel restrictions. "With Go Style" everyone pushes through these obstacles to make it happen.
After two days of travel, we arrive at the Hemingway Hotel in Karen Kenya. The hotel's entry way is magnificent featuring African dark woods and marble. The black-tie event is taking place above the beautiful hotel foyer and in full gear. Leaders are paying tribute to Sergei with a special wine ceremony and Sergei sees to it that every guest receives a special edition bottle of wine to commemorate the event. Sergei welcomes his friends and leaders and shares with them his gratitude and vision for APLGO in the upcoming year. The night is full of dancing and music, everybody is celebrating.
The next morning we take private jets into the Mara Reserve. We are greeted by the Maasai people, the guardians and care-takers of the reserve. We spend the next three nights in tents, eating traditional Maasai meals and taking our safari though Kenya's high altitude plains. During one of the evening meals, Sergei presents us a special commemorative diamond pin, his own personal insigna – a gift signifying friendship and trust.
We see elephants, lions, giraffes, hippos, hyena's, gazelles, warthogs and many other animals as they feed and nest in their beautiful habitat. On day three, Sergei has a special surprise. We travel in the early morning one hour to the North West to another reserve where hot air balloons are waiting for us.
We drift across the morning sky and take in the views from 1200 feet above.. Rivers, trees and wildlife below. I pinch myself, we are in Africa with Sergei. I am told by other leaders that every year we have a new adventure awaiting us. When I ask Sergei about this he just laughs. "Be ready in January he says, always be ready to travel in January"
About APLGO
APLGO is an 8.5 year old company now in whisper launch in the US, Canada, Australia, Mexico and Peru. Our experienced corporate team is dedicated to your success and led by owner Sergei Kulikov, a successful, international network marketing leader. Our head office consists of six departments and sixteen divisions, with 14 global warehouses and more to come.. We consult with top-tier providers to ensure every aspect of the business is solid and scalable.
We believe the best companies create an amazing culture by providing  a positive atmosphere for every distributor and treat our employees and customers with respect. Founder and CEO Sergey Kulikov made his first $1,000,000 at 21 years of age. He is the author of an online educational platform used within APLGO since 2014 that tracks and manages Associate efficiency. For more information please visit us.aplgo.com
Recommended Distributors APLGO