ASCIRA's One year Anniversary: A Jubilant Night Of Celebration
March 22, 2021
By Team Business For Home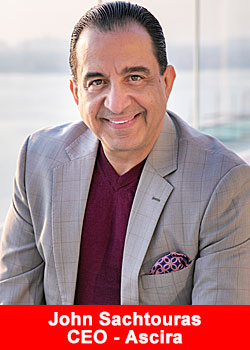 The chandeliers shone bright, the red carpets were rolled out and there was magic in the air. It was the first anniversary of ASCIRA Global in Dubai, and more than 200 independent business members of the company flew in from all over the world to partake in the jubilant celebrations.
ASCIRA celebrated this grand event at the W Dubai – The Palm on March 14, 2021. Having launched in March 2020, right at the onset of the COVID 19 outbreak, the company has recorded numerous accomplishments in the past year.
The event was compered by Steve Martin and Happy Hartman, Leadership Development Directors of ASCIRA.
Commenting on the success of the company, Founder and CEO John Sachtouras said:
"ASCIRA is a social lifestyle community with a plan to reach out and connect with beyond a billion people around the world and give them diversified knowledge and education. Our mission is to empower and inspire people to get to know their true selves, learn how to better connect with other people and how to improve their quality of life.

We want to be the symbol of bringing people together. On our first anniversary, we would like to thank you for all the appreciation and all your support. It is not just a corporate anniversary; it is an anniversary of a family that only grew strong defying the odds. Our company was blessed from its first day when you decided to be part of it."
COO Belynda Lee explained the company's three-phase development plan which includes the development of the Global Marketing Team, initiating a Social Media Platform, and setting up a Virtual Shopping Mall.
She commented:
"We were caught during an unprecedented pandemic right when we launched in Dubai. But, since we are a digital company, we used our resources to build and grow. While most other entities were laying off people, we hired candidates with the best skill sets. We were busy strengthening our foundation in this dynamic city of Dubai and we are here to make an indelible mark.

It is amazing to see the growth in ASCIRA this past year, she has surpassed everyone's expectations. She survived the pandemic and outranked her competitors in the industry. Congratulations to everyone who contributed to the creation of the company, she is no longer a start-up, she is now a young multi-million-dollar company."
ASCIRA announced its partnership with Code Breaker Technologies and its Founder CEO Cheri Tree gave a demonstration of her pathbreaking B.A.N.K system in assessing personalities.
Also, was announced the official partnership with Think & Grow Rich Institute, the only organization in the world authorized by the Napoleon Hill Foundation to teach Think and Grow Rich principles. Between Code Breaker Technologies and Think and Grow Rich, ASCIRA will build a strong leadership foundation to serve and educate customers and business members to improve relationships and lifestyle.
The Diamonds and Prime Ambassadors leaders gave the audience an insight into their success and narrated how ASCIRA has helped them grow and achieve their dreams.
All the business members have felicitated for their achievements during the year and the Diamond and above categories were gifted and recognized with specially customized gold rings with diamonds (with their names engraved on them).
The evening ended with a gala dinner and an extravagant one-meter cake which measured up to the grandeur of the event. This event will definitely be remembered for many years to come.
About ASCIRA
ASCIRA is a social lifestyle community created to provide solutions to the number one need most people have around the world – the need and desire to increase their income. Our mission is to provide great values and exceptional benefits to empower people and elevate their mindsets to unleash their maximum potential, to improve their quality of life while embracing the modern era of living.
Our vision is to connect Beyond a Billion people around the world through the integration of three of the most powerful industries under one umbrella: Direct Sales, Social Media, and E-Commerce, while offering our valued members one of the most lucrative compensation plans in the industry. For more information, please visit www.asciraglobal.com