BE Announces 77% Customers To 23% Distributors Ratio
March 11, 2021
By Team Business For Home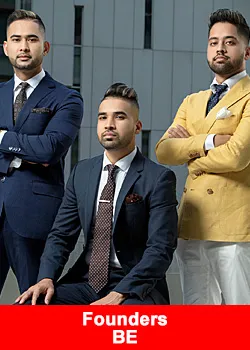 Driven by a strong vision to create a place of work for millions of people and a mission to become the fastest company to pay out a billion dollars in commission by December 2022, the accomplished young founders Ehsaan, Monir, and Moyn Islam of BE launch a very compelling incentive plan.
With combined experience of fourteen years of the highs and lows of being in the field, they have understood the value of taking care of distributors and putting people first before themselves.
This March 2021, they have launched an aggressive Bonus Plan for the BE Distributors where they can earn up to an additional $5,000,000 bonus despite the compensation plan paying out already 65%. The brothers' goal is to give back more to the people in the field as they possibly can.
BE has a reputable name of having the highest paying compensation plan in the market, offering a whopping additional bonus of:
$60,000 for qualifying as a Diamond
$150,000 as a Presidential Diamond
$300,000 as a Royal Diamond
$600,000 as Ambassador
$1,200,000 as Royal Ambassador
$5,000,000 as Crown Ambassador.
Having over 77% customers and only 23% distributors with an average of 8 months customer retention, BE has proven a sustainable compensation plan backed up with a solid residual income making its compensation plan one of the most appealing in the industry for distributors.
From being homeless to now successfully building a company bringing together an unparalleled and ever-expanding range of initiatives and platforms, the BE Founders share their thoughts on what encouraged them to take this incredible leap:
"We understand the intensity and challenges of hustling through the field. Through this opportunity, we express our encouragement and gratitude to the hardworking and amazing team who passionately pour out their all to live the mission and vision of BE in transforming millions of lives."
The brothers extend their heartfelt words of encouragement to those who are thriving in the industry:
"Think big and do it big! There's a quote that says, 'shoot for the moon, and if you miss, you will land among the stars,' because your level of desire will drive the intensity of your daily action. Create an action plan and stay consistent every day at doing inspired action. Remember, a minute of inspired action can change your direction for your entire hour, a whole day, and eventually weeks, months, and years. Act now! Because without it, you will repeat the constant result of dreaming and not achieving."
INCOME DISCLAIMER: Earnings as a BE IBI are based solely upon the successful sale of products and services to customers and their usage of those products and services. IBIs will incur expenses in operating their BE Business as BE IBI License fee and other possible operating expenses. As with any business, earnings and success at BE are not guaranteed. There is no income earned from the mere act of sponsoring or recruiting others.
For full income disclosure, visit our website: berules.com
About BE
BE is a next-generation ecosystem made up of a unique concept of 'Live & Learn' which includes e-learning and travel platforms with a comprehensive set of tools for independent business owners.
The BE ecosystem uses artificial intelligence technology, to offer a decentralized, transparent, and empowering space for people from all walks of life, regardless of their educational or financial background, to build their very own multimillion-dollar business from their smartphone.
For more information, please visit www.berules.com
Recommended Distributors BE