Dana Eudy Achieves All-Star Rank At Velovita
March 17, 2021
By Team Business For Home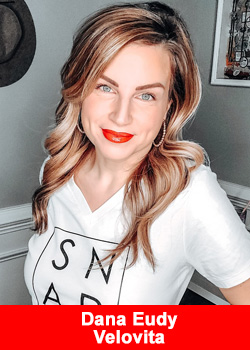 Dana Eudy is no stranger to hard work and being able to help others. Now at All-Star rank with Velovita, Dana continues to do what she does best which is contribute to her community in many positive ways.
We spoke with Dana about her life personally and professionally aside from social selling, and she had this to share:
"I am a registered nurse and have been for 14 years. Most of which was spent in emergency medicine on night shift duties. I am the mother of a 7-year-old girl who is in the 1st grade.

I have been married to my husband for over 10 years and we rescued a loud Husky momma who keeps us on our toes. We live a very busy life especially during the pandemic as front-line workers and virtual schooling our daughter full time at home."
Dana's relentless spirit is still going strong regardless of her busy schedule. Specifically, her efforts with Velovita in the past few months have been truly amazing. Her incredible efforts earned her the "#1 Retail Seller" award during Velovita's Official Launch Event Awards Gala this past February.
Dana states,
"My biggest accomplishment has been developing an abundant mindset. By eliminating a scarce mentality, I have been able to focus on gratitude and unlock unique strengths that have helped me find success within the industry. Making a dream into reality begins with what you have, not with what you're waiting on!"
Dana is not only a major supporter of Velovita as a company, but also of their innovative health and wellness product line. She considers Velovita's products a major reason to why she is able to stay focused and achieve all her daily goals.
"As a night shifter my life was turned upside down for the majority of my career. I was tired and could not get anything done on my days off. All I wanted to do was sleep because I was living in a constant fog.

I started taking the product and immediately felt alive, focused, and ready to seize the day! I Loved it! My husband began taking it and I could tell his mood had lifted and he was coming home less stressed after long workdays."
Said Dana.
When asked what she saw as a unique advantage in joining Velovita, Dana had this to say:
"The binary structure and compensation plan was nothing I had ever seen, and everyone can truly win here. The culture is uplifting and positive with so many coming together to build something amazing. I knew I had to jump in!"
Velovita Founder and CEO, Kosta Gara, had this to say when asked about Dana Eudy:
"It's really incredible what Dana has been able to accomplish with us, despite her other responsibilities.

She is a perfect example of why this lifestyle can be beneficial to so many regardless of their busy work schedules. We're honored that she is a part of the Velovita family and are excited to see her continue to grow with us!"
About Velovita
Founded on 90+ years of operational and field success, Velovita has quickly become a global leader of innovation in the field of biohacking, social selling, community expansion, and support for the new world entrepreneur.
Their mission is to provide an ecosystem of inspiration, education, and life enrichment. Velovita has a singular focus on the individual to increase their daily performance both mentally and physically. For more information on Velovita, please visit Velovita.com or Velovita's Facebook page. You may also contact Velovita at [email protected]. It's a SNAP! We know you'll #LOVIT!
Recommended Distributors Velovita