Erhard Bende Of Hungary Becomes Velovita's First All-Star In Europe
March 10, 2021
By Team Business For Home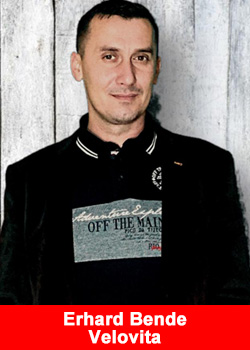 It has been less than a year since Velovita began their operations, but their growth has been one of the most impressive surprises in the industry.
Based in the U.S. with products shipping to Canada, Mexico, and Japan – Velovita is ready to expand to all 27 countries of the European Union. Hungary will be the first EU country to benefit from their European expansion plans.
Velovita's vision is a worldwide movement of people realizing their greatest potential by providing an environment whereby technology and tradition unite to create a platform for everyone to thrive. Europe is among the first, with many other markets on the horizon for the innovative group led by CEO Kosta Gara and President Jeff Mack.
Launching first in Hungary, Velovita and their cutting-edge biohacking solutions will soon be available to the over 445 million inhabitants of the European Union. And Velovita's timing could not be more advantageous as the company has not even completed its first year.
Among those enjoying great success with Velovita's European launch is Hungary's very own Erhard Bende. With his ability to speak Croatian, Serbian, and German, Erhard is a huge asset for Velovita's footprint in Europe. And he made the most of his skills by earning an All-Star rank with Velovita just days after Velovita's European Launch.
After 9 years of being in the profession of network marketing, Erhard Bende can now officially call Velovita his home. When asked what spoke to him most about Velovita, Erhard had this to say:
"First of all, it's the attitude of the owners that is the most important at a company. The friendly welcome, kind atmosphere and communication I have experienced here can only bring great success in business.
In addition, the products fill a market gap that meets the real needs of the people – humanity needs this for a long time. It is a great honor for me to help the company with the European launch and be part of the promoting their products here. Everybody needs the products from Velovita."
Now with Velovita's innovative product line available to the Hungarian market, you can expect to see more individuals changing their lives positively and also the lives of their families. Erhard Bende is no exception, as his drive to continue growing and learning will always help grow his business to greater levels.
"This profession gives everyone the chance to make their dreams come true and it is good to see that I can help people change their life for a better one.

The reason why most of the people don't work in this profession is that they don't understand it yet. However, if someone wants to have a huge business, and is willing to understand it, then they will certainly have great success."
Stated Erhard.
Velovita President Jeff Mack shared his excitement on their European Launch and Erhard's achievements:
"We are very excited about our European expansion and the future of Velovita not only in Hungary, but all of Europe.

Hungary, although small in population, is known as one of the best Direct Sales markets in Europe.

Erhard brings a level of integrity and work ethic that Hungary is known for and thus, Velovita's foundation in Europe will be as it is corporately; rock-solid!"
The world is ready for Velovita and they seem more than ready for it. You can expect to hear more exciting European Launch announcements from Velovita in the coming weeks.
About Velovita
Founded on 90+ years of operational and field success, Velovita has quickly become a global leader of innovation in the field of biohacking, social selling, community expansion, and support for the new world entrepreneur.
Their mission is to provide an ecosystem of inspiration, education, and life enrichment. Velovita has a singular focus on the individual to increase their daily performance both mentally and physically. For more information on Velovita, please visit Velovita.com or Velovita's Facebook page. You may also contact Velovita at [email protected]. It's a SNAP! We know you'll #LOVIT!
Recommended Distributors Velovita