Matt Morris Achieves Red Diamond Rank At Seacret Direct
March 4, 2021
By Team Business For Home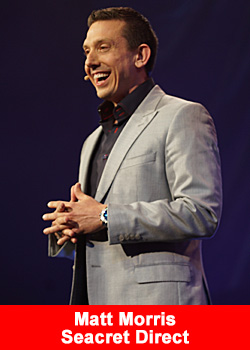 After 25 years in network marketing, Matt Morris is experiencing a unique and fruitful pathway towards growth and leadership opportunities through Seacret Direct. For Matt, reaching Red Diamond rank is one of many milestones or progress in the near future.
Matt came to Seacret through an introduction by friend and associate Muzafer Najfi, a Red Diamond leader at the company. The decision to join this enterprise comes from a combination of cultural fit, limitless potential, and a synergy in life philosophy. But what sealed the proverbial deal was in meeting with Seacret Founder & CEO Izhak Ben Shabat.
"When I sat down with Izhak, I could feel his conviction, integrity, and passion for this company. I've never felt more secure than I do today because of his commitment to the field,"
Matt shares.
"When there's faith in the future, there's power in the present."
Of Matt and his Red Diamond rank advancement, Izhak expresses his support going forward.
"Matt is a formidable addition to the Seacret family of thought leaders. I am impressed by his unyielding positivity, even when adversity strikes. We can all learn from his story."
Twenty-five years earlier, Matt found himself at the beginning of a longstanding direct selling profession. But those days were wrought with insecurity and challenges in personal focus. He recalls a life-changing epiphany.
"I finally made a decision to stop dipping my toe in the water and go all-in. After calling over 300 people, I overcame my fear of rejection. I was doing more presentations in a week than I used to do in a year! And after, I felt this incredible sense of pride… because I did EVERYTHING I could to achieve my dreams. The inspiration I needed was within me all along."
Since then, Matt has enjoyed an outcome of sales accolades: earning No. 1 income status in three companies, multiple million-dollar rings, and other top rank awards. Though what supercharges his personal motivation is to witness the milestones achieved by others.
"I cry like a baby watching the leaders in our organization being awarded."
These emotional sentiments come from a time in his past when business and life challenges raised personal doubt.
"Even in the best of times, things can go bad very quickly," Matt remembers. "But in that, there's opportunity. When it feels like there is no light at the end of the tunnel, that's when you have to work like the light is blinding you."
Intrigued by what the future looks like at Seacret, Matt continues to be inspired by attracting new customers and sponsoring new Agents. His team is reaching new rank advancements at a record pace. When asked for the purpose in making accelerated growth happen, Matt says it simply, "Three words. One hashtag. #BuildingADynasty."
About Seacret Direct
Founded in 2005, Seacret Direct develops, manufactures and sells premium nutrition and skincare products that combine Dead Sea minerals and other clean ingredients with new technologies and scientific breakthroughs.
Exclusively manufactured in Israel, Seacret skincare products offer mineral combinations found only in the Dead Sea. Seacret nutrition products are plant centered formulas and supplements for every body. The Seacret membership program rounds out the proposition of the lifestyle company serving an ever-expanding community.
Seacret products were sold in many countries before the company adopted the direct selling business model in 2011. Since then, Seacret continues to be recognized on the DSN Global 100 list for its global impact of the industry on economic and social realms.  For more information, please visit seacretdirect.com.
Recommended Distributors Seacret Direct