New Age (Morinda, ARIIX, Limu, Mavie, Zennoa) Q4 Revenue Up 53% To $90 Million
March 17, 2021
By Team Business For Home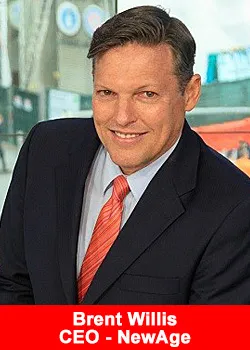 NewAge, Inc. (Nasdaq: NBEV), the Colorado-based healthy products company intending to become the world's leading social selling and distribution company, today announced financial results for the quarter ended December 31, 2020, with net revenue reaching $90.4 million, an increase of 53%.  Adjusted EBITDA(1) also exceeded expectations reaching $2.9 million, NewAge's first profitable quarter.
Highlights for the Full Year 2020:
Acquired and integrated ARIIX reaching more than $500 million in pro forma revenue
Divested BWR and other retail brands, improving EBITDA(1) by more than $15 million
Identified more than $20 million in cost synergies, captured more than 50% already
Strengthened balance sheet and financial flexibility with almost $100MM in cash
Launched Noni+CBD in Japan and multiple other new products worldwide
Brent Willis, Chief Executive Officer of NewAge commented,
"2020 was another transformative year for NewAge, whereby we eclipsed half a billion dollars in revenue and achieved profitability, and we believe we are just getting started. 

Beyond the scale and profitability benefits that came with ARIIX and the four other companies that merged with us in November, we significantly strengthened our management teams and execution capabilities, and as a result are seeing excellent organic growth momentum in 2021." 
Mr. Willis continued,
"We are seeing record growth in Western Europe, the US, and Mexico, and resurgence in both China and Japan.  The recently announced letter of intent to acquire Aliven in Japan, will add further momentum in this highly profitable core market for NewAge. 

We continue to make substantial progress on converging our companies and capturing cost synergies and are ahead of schedule on capturing our $20 million target.  This will further add to the bottom line, on top of the benefits that accrue from the disposition of BWR."
"We believe our social selling focus and direct route-to-market is both pandemic and recession resilient, and we are beginning to see the benefits of our busines model.  During the remainder of 2021 we will continue pursuing our key strategies of: converging with ARIIX and reducing costs; enhancing our social selling platform; driving organic growth by focusing on key geographic regions; and pursuing strategic acquisitions and collaboration opportunities that will drive value for all of our stakeholders," said Willis.
On November 16, 2020, NewAge closed its merger transaction with ARIIX and began fully integrating and converging NewAge, Morinda, ARIIX, MaVie, Limu, Zennoa, and Shannen. Accordingly, fourth quarter results for NewAge include operating results for ARIIX from the closing date forward.
About NewAge, Inc. (NASDAQ: NBEV) 
NewAge is a purpose-driven firm intending to become the world's leading social selling and distribution company. Colorado-based NewAge commercializes a portfolio of organic and healthy products worldwide through primarily a direct route-to-market system. The company competes in three major category platforms including health and wellness, healthy appearance, and nutritional performance and leads a network of more than 400,000 exclusive independent distributors and brand partners around the world.
The Company operates the websites NewAge.com, Noninewage.com, Ariix.com, Mavie.com, Thelimucompany.com, Zennoa.com and a number of other individual brand websites.