Paula Guidi Achieves All Star Rank At Velovita
March 31, 2021
By Team Business For Home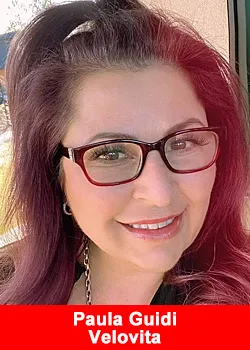 Paula Guidi has been a social selling success for several years, but now with Velovita she's finding everything her life needs moving forward.
After being a realtor for many years and running businesses with her husband, Paula became a stay-at-home mom to 2 boys and was committed to make a career change that could compliment her lifestyle.
Paula applied her energy to the rapidly growing social selling industry where she was able to be among the top earners in her previous companies. Now an All-Star with Velovita, Paula has found new motivation and continues to strive while being able to comfortably take care of her family as well as helping others do the same.
When asked what her drive was, Paula had this to share:
"My drive to help other moms to build a home-based business and earn a full-time income. Knowing that they can do this on their terms and never miss out on their kids growing up.

The sky's the limit in this industry. I love it, that it is open to all. No education or formal training is needed. I love freedom. I love that I can work from anywhere at any time. Helping mom's that feel stuck financially, they can have it all. They can be home with their kids and still earn an income."
But more time and freedom are not the only reasons why Paula Guidi chose Velovita. It was also because of their proven biohacking solutions and reliable business infrastructure.
"This product makes a huge impact naturally. There are so many people out there with mental health issues.

On the business side, I joined this company when it was in pre-launch. The best time to get into a company is in the beginning but that also comes with headaches.

Shipping delays and customer service can usually be an issue. But this company was running smoothly, and they had it all figured out. All my boxes were checked when I joined. The comp plan, the culture, the founders…I couldn't say no!"
Stated Paula.
As Velovita gets ready to celebrate its first year as a company on May 5th alongside thousands of its members, Paula reflects back on her time with Velovita so far:
"The support is like no other. I feel heard here which wasn't the case in other companies. The founders hear us and truly care about what we feel, what we think, and where the company is going."
Velovita CEO Kosta Gara had this to say about Paula Guidi:
"As we wrap up our first incredible year as a company, it is important to recognize amazing individuals like Paula Guidi that helped us get to where we are now. Everything she does and everyone she helps is a testament to what we stand for as a company."
About Velovita
Founded on 90+ years of operational and field success, Velovita has quickly become a global leader of innovation in the field of biohacking, social selling, community expansion, and support for the new world entrepreneur.
Their mission is to provide an ecosystem of inspiration, education, and life enrichment. Velovita has a singular focus on the individual to increase their daily performance both mentally and physically. For more information on Velovita, please visit Velovita.com or Velovita's Facebook page. You may also contact Velovita at [email protected] It's a SNAP! We know you'll #LOVIT!
Recommended Distributors Velovita