Richard Martinez Restrepo From Mexico Achieves Crown Diamond Rank At Stemtech
March 31, 2021
By Team Business For Home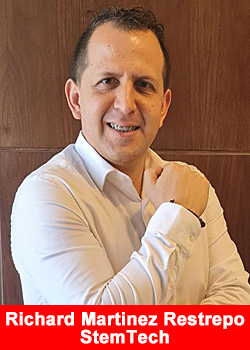 Stemtech Chief Operating Officer John W. Meyer says that he is "inspired by Richard achieving the first Crown Diamond Director in Mexico.
Richard Martinez Restrepo stated upon his achievement:
It is wonderful to see his efforts rewarded by helping so many people achieve better health and wellness through Stemtech. His path from Venezuela has given him a new life, a better quality of life".
I left everything in Venezuela, my family, my company, friends… And I came to Mexico looking for a great opportunity and I found the one who is now my wife, who introduced me to the immense project that is Stemtech.

I was fascinated to have such advanced technology in the health area and to lead this movement to transform thousands of lives.
Months later my life already had so much meaning, I had had a total transformation and above all certainty in my future, with the great fortune of being able to travel with the company to incredible places such as Spain and France on the Diamonds trip, plus the incredible trainings in the Conventions.
Today I am healthier than I have been in the last 10 years, and I am extremely inspired by all the testimonies we have every day, and the great opportunity that so many of us are taking advantage of.
Thank you Stemtech for giving me a new family!
About Stemtech
Originally founded in 2005, Stemtech has pioneered a new category of dietary supplement – stem cell nutrition, which has changed the landscape of health and wellness forever. Stemtech's one-of-a-kind natural products are designed to support the body's natural renewal system of adult stem cells. For more information, please visit www.stemtech.com