Alvaro Jaramillo Achieves Blue Diamond Rank With OmegaPro
April 6, 2021
By Team Business For Home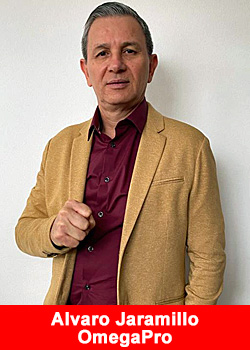 Alvaro Jaramillo joined OmegaPro 18 months ago, and although no prior experience in the network marketing industry, he had the knowledge and foundation for success, having spent the prior decade in the online business world. This gave him, along with some friends and other business leaders who joined together, the awareness that OmegaPro was the best digital opportunity to pursue as a career.
"I come from a Colombian family, educator and entrepreneur, I am a Financial and Banking Administrator from the University of Quindío. I worked in the private sector as well as in the public sector for many years and today I have achieved more success at Omegapro than had in all my many years as an employee, including quality of life.

I have been able to travel with my family to various parts of the world. I love the mlm industry because it has allowed me to meet so many wonderful people. This industry is the most comprehensive and professional in the world today."
"I want to thank all the teams and leaders who accompanied me in this process, my family, my sponsor Yersson Durán, Oscar Montoya and Santiago Rozo, the entire Master Team and OmegaPro corporate. Without their help it would not have been possible to have reached this rank of Blue Diamond in just 18 months, thank you, thank you a thousand thanks."
"Together with a whole team we have built networks of more than 30,000 people, but the best of all is that we are helping many families around the world in the 21st century to generate income online and from home through two financial products offered by OmegaPro."
This great Blue Diamond achievement will be recognized in a few months at an official event in Dubai.
About Omegapro
The mission of OmegaPro is to deliver a secure world class trading experience to all clients – both retail and institutional. We continually invest in new technologies and people, to provide our clients with a diverse range of trading products and exceptional trading outputs.
Moreover, we put a major emphasis on account security – we use the most advanced tools and encryption protocols and provide plentiful market liquidity to ensure your capital. Thanks to the vast market volume that OmegaPro handles and our strict risk policies, we can ensure that your account with us is secure, while connecting you to the fast paced global markets.
For more information please visit: www.omegapro.world