ByDzyne Gives Away 3 Supercars And 2 Luxury Homes
April 5, 2021
By Team Business For Home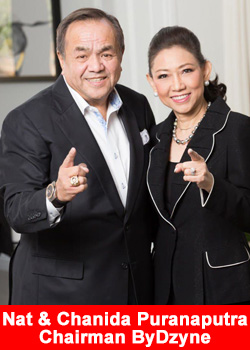 One of ByDzyne's foundational pillars when it first launched in 2019 was to create a culture of care, by truly celebrating each other's victories and successes. Nearly two years later, the company's executive team was able to live that core principle out in a big way, with the unbelievable promotional giveaway of a quarter of a million dollars in the form of two luxury homes, and four supercars to their highest-ranked distributors.
Along with purchasing extravagant homes in some of their Brand Ambassador's respective home countries, the owners delivered a Maserati, Mercedes-Benz G Wagon, and a Rolls Royce to their top-6 producing leaders, each of whom qualified for the promotion by hitting the President rank or above at least five times.
To add to the acknowledgment, unlike many other companies that entail promotions with potential leases tied to them, ByDzyne's founders believed it would be most honoring to their leaders to just pay for the items outright and truly recognize each of their hard work and merited accomplishments.
For Nattida Chong, ByDzyne's cofounder, the giveaway is what ByDzyne is all about—providing unlimited opportunities, working hard, and celebrating each other's successes.
"These leaders have worked their tails off, and have a work ethic like no other. They are the prime examples that if you put your discipline, your dedication, your effort into this business, you can start dreaming about what is possible. We are so grateful and excited for them, and we are looking forward to continuing to recognize BD Nation success all around the world,"
shared an extremely proud Chong.
The giveaways happened earlier this month on a recent ByDzyne leadership summit, where ByDzyne founders welcomed qualified leaders to a weekend of collaboration, celebration, and recognition. The event was rich in detail and appreciation and included an airport limousine pickup, luxurious accommodations at an exquisite Malibu garden estate, private dining prepared by world-renowned chefs, a picturesque yacht excursion over a southern California marina, and a giveaway surprise of a lifetime.
"That weekend was world-class. It was a five-star unbelievable event. I wanted to thank all of our founders for making us feel like a part of the family, and for delivering an incredible company. I just know that with their leadership, we will become the fastest Billion-dollar company and create the most millionaires in the industry. I look forward to seeing all of our Brand Ambassadors getting their new supercar or dream home soon so let's go,"
exclaimed Jed Buenaluz, one of the recipients of a new luxury car.
Another top leader, Ecuadorian Crown Gustavo Salinas, was blown away by the love he felt from ByDzyne's founders that weekend but was even more ecstatic for what lies ahead for his ByDzyne family.
"I am really grateful to our founders for that time in Los Angeles. They are the best of the best. But this is what I'm most excited about—right now we have a company that is shaking everybody in the industry. We are making the biggest boom. You cannot imagine what is coming and I believe these next three years are going to be the most successful. The markets are just getting started. The countries are just opening. The vision is unbelievable and we will change history,"
conveyed an enthusiastic Salinas.
Other official recipients include Crowns Samer Yorde and Paula Landino from Venezuela and the United States, Crown Christian Nuñez from Peru, and 2-Star Colombian President Alejandro Monroy.
ESPAGNOL
ByDzyne regala 3 supercoches y 2 casas de lujo
Uno de los pilares fundacionales de ByDzyne cuando se lanzó por primera vez en 2019 fue crear una cultura de atención, realmente celebrando las victorias y los éxitos de cada uno. Casi dos años después, el equipo ejecutivo de la empresa pudo vivir ese principio fundamental a lo grande, con el increíble regalo promocional de un cuarto de millón de dólares en forma de dos casas de lujo, y cuatro supercoches a sus distribuidores mejor clasificados.
Además de comprar extravagantes casas en algunos de los países de origen de sus embajadores de marca, los propietarios entregaron un Maserati, un Mercedes-Benz G Wagon y un Rolls Royce a sus seis mejores líderes de producción, cada uno de los cuales calificó para la promoción al alcanzar el rango de Presidente o superior al menos cinco veces.
Además, a diferencia de otras empresas que ofrecen ascensos con posibles contratos de alquiler, los fundadores de ByDzyne creyeron que sería más gratificante para sus líderes pagarles los artículos directamente y reconocerles su duro trabajo y sus merecidos logros.
Para Nattida Chong, cofundadora de ByDzyne, el regalo es la esencia de ByDzyne: ofrecer oportunidades ilimitadas, trabajar duro y celebrar los éxitos de los demás.
"Estos líderes se han dejado la piel y tienen una ética de trabajo sin igual. Son el mejor ejemplo de que si pones tu disciplina, tu dedicación y tu esfuerzo en este negocio, puedes empezar a soñar con lo que sería posible. Estamos muy agradecidos y emocionados por ellos, y estamos deseando seguir reconociendo el éxito de la BD Nation en todo el mundo",
compartió un Chong muy orgulloso.
Los regalos tuvieron lugar a principios de este mes en una reciente cumbre de liderazgo de ByDzyne, en la que los fundadores de ByDzyne dieron la bienvenida a líderes cualificados a un fin de semana de colaboración, celebración y reconocimiento. El evento fue rico en detalles y agradecimiento e incluyó una recogida en limusina en el aeropuerto, alojamiento de lujo en una exquisita finca con jardín en Malibú, cena privada preparada por chefs de renombre mundial, una pintoresca excursión en yate sobre un puerto deportivo del sur de California y un regalo sorpresa que solo occurre una vez en la vida.
"Ese fin de semana fue de primera clase. Fue un evento increíble de cinco estrellas. Quería dar las gracias a todos nuestros fundadores por hacernos sentir como parte de la familia y por ofrecer una empresa increíble. Sólo sé que con su liderazgo, nos convertiremos en la compañía más rápida de mil millones de dólares y crearemos el mayor número de millonarios en la industria. Estoy deseando ver pronto a todos nuestros Embajadores de Marca recibiendo su nuevo supercoche o la casa de sus sueños, así que vamos",
exclamó Jed Buenaluz, uno de los receptores de un nuevo coche de lujo.
Otro de los máximos responsibles, el ecuatoriano Gustavo Salinas, se mostró impresionado por el amor que sintió de los fundadores de ByDzyne ese fin de semana, pero se mostró aún más exultante por lo que le espera a su familia ByDzyne.
"Estoy muy agradecido a nuestros fundadores por ese tiempo en Los Ángeles. Son lo mejor de lo mejor. Pero esto es lo que más me entusiasma: ahora mismo tenemos una empresa que está sacudiendo a todo el sector. Estamos haciendo el mayor boom. No te puedes imaginar lo que viene y creo que estos próximos tres años van a ser los más exitosos. Los mercados acaban de empezar. Los países acaban de abrirse. La visión es increíble y vamos a cambiar la historia",
transmitió un entusiasta Salinas.
Otros galardonados oficiales son las coronas Samer Yorde y Paula Landino, de Venezuela y Estados Unidos, el corona Christian Núñez, de Perú, y el presidente de 2 estrellas de Colombia, Alejandro Monroy.
Recommended Distributors ByDzyne