ByDzyne's Nat & Chanida Puranaputra Receive Hermes Creative Awards' Gold Award
April 28, 2021
By Team Business For Home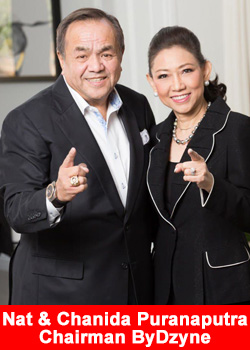 ByDzyne's Nat and Chanida Puranaputra receive Hermes Creative Awards' Gold Award for 'Most Influential Chairmen.
Entrepreneurs seeking a company plenteous in foundational integrity, inspiration, and impact need to look no further than ByDzyne, as the company's cofounders Nat and Chanida Puranaputra have just been honored with a prestigious Gold Award for 'Most Influential Chairmen' by the renowned Hermes Creative Awards.
With over 230,000 entries from over 125 countries since its inception in 2007, the Hermes Creative Awards is one of the oldest and largest creative international competitions in the world. Each year, the most pristine entries from individuals, media conglomerates, and Fortune 500 companies are recognized for their excellence in marketing, creativity, communication, advertising, and influence.
The Gold Award is a distinguished accolade and other winners this year include top-brand organizations and entities AARP, Nissan, Cuisinart, Fidelity Investments, the NFL Players Association, and the U.S. Department of Veteran Affairs.
"We are so humbled with this Gold Award from the Hermes Creative Awards. This is an award shared and dedicated to all of BD Nation—without each and every one of you and your commitment to hard work, your unwavering perseverance, and your teachable attitudes, this would not be possible.

Thank you from the bottom of our hearts, and we are so looking forward to continuing this journey where we can see each of you prosper in life and financial freedom,"
declared the thankful Puranaputras.
Widely considered the industry's most prominent "power couple," Nat and Chanida, originally from Thailand, have been embedded in the network marketing industry for more than a combined 40 years. During that span, they have reached the most pinnacle leadership positions in multiple multi-level marketing companies and have quite possibly helped create more six and seven-figure earners than anyone before them.
Their invaluable experience as distributors, industry icons, and former top-income earners, have eased and aided their efforts in helping form one of the most momentous direct sales companies in the industry today. According to some of ByDzyne's top leaders, their prestige and influence are simply unmatched.
"Nat and Chanida are everything you would hope for in owners. They have the right vision, they have an infectious work ethic, and most importantly, they are owners with big hearts and ones that have our backs. There is nothing like knowing that there is trust and belief from your leaders and that they always want to see you succeed,"
shared Christian Nuñez, ByDzyne's Crown from Peru.
"To say they are the 'Most Influential Chairmen' is a complete understatement. They provide the tools, the support system, the training, the care, the guidance, and the leadership that helps each person maximize their true potential. Congratulations Nat and Chanida and thank you both for allowing me to believe in myself and helping me go after my dreams again,"
exclaimed a thankful Phanawat 'Shane' Lapsampham, 3-Star President from Thailand.
The Hermes Creative Awards, administered by the Association of Marketing and Communication Professionals, joins an impressive recognition resume for ByDzyne this past year, which includes a Platinum MarCom Award, an AVA Digital Gold Award, and a Stevie Award.
The company's global stature is clearly on the rise, and with Chairmen Nat and Chanida Puranaputra anchoring its sails, dreams are sure to be found, new millionaires certain to be made, and rewritten legacies etched for generations to come.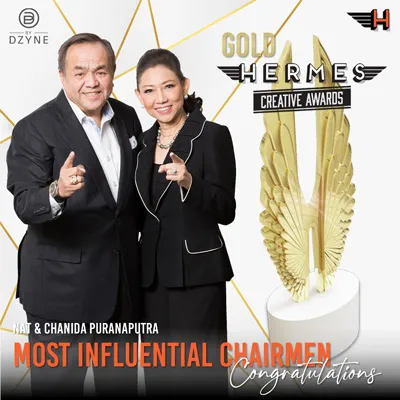 Spanish
Nat y Chanida Puranaputra, de ByDzyne, reciben el premio de oro de los Hermes Creative Awards de "Presidentes más Influyentes"\
Los emprendedores que busquen una comañía llena de integridad fundacional, inspiración e impacto no tienen que buscar más allá de ByDzyne, ya que los cofundadores de la empresa, Nat y Chanida Puranaputra, acaban de ser galardonados con el prestigioso Premio de Oro a los "Presidentes más Influyentes" por los renombrados Hermes Creative Awards.
Con más de 230.000 candidaturas procedentes de más de 125 países desde su creación en 2007, los Hermes Creative Awards son uno de los concursos internacionales de creatividad más antiguos y grandes del mundo. Cada año, se reconocen las candidaturas más perfectas de particulares, conglomerados de medios de comunicación y empresas de la lista Fortune 500 por su excelencia en marketing, creatividad, comunicación, publicidad e influencia.
El Premio de Oro es un galardón distinguido y entre los ganadores de este año se encuentran organizaciones y entidades de marca superior como AARP, Nissan, Cuisinart, Fidelity Investments, la Asociación de Jugadores de la NFL y el Departamento de Asuntos de Veteranos de los Estados Unidos.
"Nos sentimos muy honrados con este premio de oro de los Hermes Creative Awards. Este es un premio compartido y dedicado a toda la Nación BD – sin todos y cada uno de ustedes y su compromiso con el trabajo duro, su perseverancia inquebrantable, y sus actitudes de enseñanza, esto no sería posible.

Gracias desde el fondo de nuestros corazones, y estamos deseando continuar este viaje en el que podamos ver a cada uno de ustedes prosperar en la vida y en la libertad financiera",
declararon los agradecidos Puranaputras.
Ampliamente considerados como la "pareja de poder" más prominente de la industria, Nat y Chanida, originarios de Tailandia, han estado integrados en la industria de redes de mercadeo durante más de 40 años combinados. Durante ese tiempo, han alcanzado los puestos de liderazgo más importantes en múltiples redes de mercadeo y posiblemente han ayudado a crear más ganadores de seis y siete cifras que nadie antes de ellos.
Su valiosa experiencia como distribuidores, iconos de la industria y antiguos ganadores de ingresos máximos, han facilitado y ayudado a sus esfuerzos para ayudar a formar una de las empresas de venta directa más trascendentales de la industria actual. Según algunos de los principales líderes de ByDzyne, su prestigio e influencia son simplemente inigualables.
"Nat y Chanida son todo lo que se puede esperar de unos propietarios. Tienen la visión adecuada, una ética de trabajo contagiosa y, lo más importante es que son dueños con corazones grandes y siempre contamos con ellos. No hay nada como saber que hay confianza y creencia por parte de tus líderes y que siempre quieren verte triunfar",
compartió Christian Núñez, Corona de ByDzyne de Perú.
"Decir que son los 'Presidentes más influyentes' es quedarse corto. Proporcionan las herramientas, el sistema de apoyo, la formación, la atención, la orientación y el liderazgo que ayuda a cada persona a maximizar su verdadero potencial. Enhorabuena, Nat y Chanida, y gracias a ambos por permitirme creer en mí mismo y ayudarme a perseguir mis sueños de nuevo",
exclamó un agradecido Phanawat 'Shane' Lapsampham, Presidente de 3 Estrellas de Tailandia.
Los Premios Hermes a la Creatividad, administrados por la Asociación de Profesionales del Marketing y la Comunicación, se suman a un impresionante currículo de reconocimientos para ByDzyne este último año, que incluye un Premio MarCom de Platino, un Premio AVA Digital de Oro y un Premio Stevie.
La talla mundial de la empresa está claramente en alza y, con los presidentes Nat y Chanida Puranaputra al frente de sus velas, es seguro que se encontrarán sueños, se harán nuevos millonarios y se reescribirán legados para las generaciones venideras.
Recommended Distributors ByDzyne