Dr. Tim Harrigan Achieves Diamond Rank At Valentus
April 20, 2021
By Team Business For Home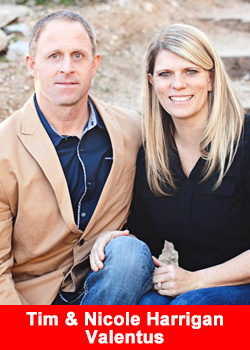 From a colleague:
"Dr. Tim Harrigan defies the status quo. When he walks into a room and says, "Let's get weird!" you just know: An impact is about to be made, lives are going to change, and it can only be for the better.  He's just that way."
Dr. Tim:  For 20 years I have simply been obsessed with finding answers to 3 questions…
1) How do we address the "cause" of dis-ease/dysfunction, instead of just managing symptoms? 
2) What formulas/tools/systems/habits are needed to do so…  that are also the least invasive, most effective, most sustainable, and most natural/causative way possible?
3)  How do we educate the masses to apply these things so we can increase not just our lifespan, but our quality of life?
Did you know… our lifespan is no longer improving or just staying the same?  For the first time ever it's actually getting worse!  This is not ok!  Not under my watch.
So, back to the original statement my colleague made…  We absolutely must do things differently or "weird" compared to the majority of the population to beat these health statistics.  Our current practices and culture are obviously not working towards improving it.
After surviving a car crash at 17 years old, I realized it was not my time to go, and I was destined to find a greater purpose than myself!  As a personal trainer for 5 years, and eventually treating thousands of patients, we pride ourselves on helping people answer/teach those 3 questions above.  We absolutely practice what we preach.
I have not had a prescription for over 17 years.  Our 4 young children have never had one medication in their precious little bodies.  My wife was told years ago that she wouldn't be able to have children, yet here we are.  These are just a few of the types of stories we get almost daily now.
Also, did you know…    You would have to eat 15-20 bowls of salad now, to get the same nutrients/nutrition out of 1 bowl of salad in 1940.   Our soils have changed, "food" has become less natural and filled with chemicals, our diets are extremely nutrient deficient, and we are sicker than ever!
Well now this is awkward…  How does networking come into all of this?  Well I have always been an MLM hater!  Yes, I said it!  Having a busy practice, you can imagine how often we get approached by people wanting us to "sell" their products.  I could smell an MLM'er from a mile away. 
But here we are!   I have a few revelations with my inaccurate stereotype I'd like to share.
1:  Networking is not just a neat thing some people do, but in fact it's necessary these days to be successful, no matter what your niche is!
2: Standing behind the life changing results of a particular system/formula, I realized it doesn't matter how they are acquired.  Whether in a store, online, or a networking acquisition, I have to recommend the BEST to my tribe!
3:  Getting a bigger vehicle/platform, with a bigger voice to impact far more lives, with more integrity/purpose, with the original nutritional power I have used for over a decade, well, that's where this journey has taken me now!
About Valentus
In Latin, the word "Valentus" means "prevail," defined as proving to be superior in strength, power, and influence. Recognizing that, we could n0t have picked a more fitting name for a company that strives to be the example in an industry that deserves a leader to follow.
Since day one, our focus, our passion, and our commitment have been to create a company, a product line, and an opportunity built on a foundation of integrity.
From creating significant levels of income, to building strong networks, healthy long-lasting relationships, making new friends, participating in activities you never even knew existed, having the time to do the things you love with the people you love to be with, VALENTUS can help you PREVAIL in ALL of your goals. For more information please visit www.valentus.com
*Earnings Disclaimer
Results may vary and are not typical- place after any testimonial or income claim statement. Earning levels, rank advancement or income statements (including claims such as the ability to quit a job or achieve a luxury lifestyle) discussed here exceed average results achieved by all Representatives during the same time period, and are not necessarily a representation of the success or compensation that any particular Representative will receive. These should not be considered typical or average and may vary from person to person.
The ability to earn income under the Valentus Compensation Plan depends on many factors including the Representatives sales, business and social skills and experience; personal ambition and drive; availability of time and financial resources; and access to a large network of family, friends, and business contacts.
Valentus cannot and does not guarantee any particular level of earnings. Even if a Representative, who dedicates a significant amount of time, effort, and money may not achieve a meaningful level of income with Valentus.