Lucy Sloukova From The Czech Republic Achieves Double Diamond Rank At Valentus
April 13, 2021
By Team Business For Home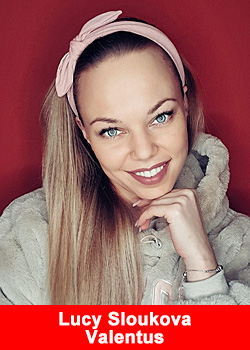 Lucy Sloukova stated upon her achievement:
I am 29 years old and I am from the Czech Republic. I live with my boyfriend in Prague and instead of children we have a dog. I was born into an ordinary normal family. My mom is a music school teacher and my dad is an electrician.
I fell in love with Latin American dancing when I was on high school and over time we got into the Austrian national team and we were representing  Austria with my partner who is my fiance too. We run our own dance school together. This is what I love and I´ve never thought about looking for something new.
At the same time, I realized that I was exchanging my time for money, but network marketing did not occur to me as an option, because I thought it couldn't work.
When I was approached on Facebook by my current amazing friend Simona Csesznokova through a cold message, I felt exceptional and I decided to give it a chance. However, we were at a company where the conditions for building a team were not entirely suitable and I stayed there for only 9 months. Even so, it was an amazing experience for me and I learned a lot there.
But the best was yet to come. In November 2018, Alicia Allman, the second angel in my network marketing journey, joined me on Facebook. The successes I could observe on her profile could no longer be ignored, so I wrote her what she was doing.
I was really interested in it and although it took me 2 months to start, I decided to start building a business with Valentus in the Czech Republic, as the first person together with Simona, who also saw this amazing opportunity and I am incredibly grateful for that.
Although it is extremely difficult to start building anything in a non-English speaking country, success has begun to come from all sides. I finally saw the people around me happy, I saw that what I was doing made sense.
What successes have I achieved on my journey? Within three months I became a Structured Emerald and after another 6 months I became a Diamond, all in 9 months in total. This was an amazing milestone, thanks to which I spent 2 summer exotic holidays by the sea, which had never happened before. I bought a new Mercedes and we could move from a two-room apartment to a four-room apartment with a huge terrace.
On February 29, 2020, we organized our first event in Prague, which was attended by over 100 people and we also had great guests such as Terri Recknor, Shani Whelan, Hannah Gallagher and my beloved Alicia Allman. After the Diamond promotion, it took me a year and a half to conquer the rank of the Double Diamond, which I became in March 2021.
The path was not easy at all. We had a lot of challenges in the form of unwilling influencers and people from other companies. But I have never lost faith in what we do and create. I believe that as a result, our team and amazing community are growing every day, and I can't wait for more and more life changing promotions in our team that is already growing in Slovakia, Poland, Germany, Austria, Greece and we are gradually preparing for Ukraine and Russia.
Wonderful times await us and I will not cease to be grateful for Valentus, who literally saved my life during the pandemic, when it became my main income and security for the future.
About Valentus
In Latin, the word "Valentus" means "prevail," defined as proving to be superior in strength, power, and influence. Recognizing that, we could n0t have picked a more fitting name for a company that strives to be the example in an industry that deserves a leader to follow.
Since day one, our focus, our passion, and our commitment have been to create a company, a product line, and an opportunity built on a foundation of integrity.
From creating significant levels of income, to building strong networks, healthy long-lasting relationships, making new friends, participating in activities you never even knew existed, having the time to do the things you love with the people you love to be with, VALENTUS can help you PREVAIL in ALL of your goals. For more information please visit www.valentus.com
*Earnings Disclaimer
Results may vary and are not typical- place after any testimonial or income claim statement. Earning levels, rank advancement or income statements (including claims such as the ability to quit a job or achieve a luxury lifestyle) discussed here exceed average results achieved by all Representatives during the same time period, and are not necessarily a representation of the success or compensation that any particular Representative will receive. These should not be considered typical or average and may vary from person to person.
The ability to earn income under the Valentus Compensation Plan depends on many factors including the Representatives sales, business and social skills and experience; personal ambition and drive; availability of time and financial resources; and access to a large network of family, friends, and business contacts.
Valentus cannot and does not guarantee any particular level of earnings. Even if a Representative, who dedicates a significant amount of time, effort, and money may not achieve a meaningful level of income with Valentus.
Recommended Distributors Valentus