Makayla Guidace Achieves All Star Elite Level At Velovita
April 6, 2021
By Team Business For Home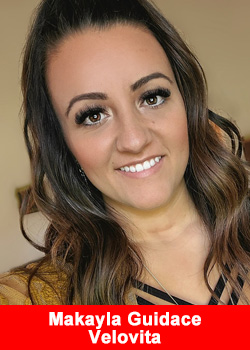 Makayla Guidace describes her former self as a "jack of all trades." And listening to her journey before finding Velovita, we can believe it.
"Believe it or not, I was actually an oval dirt track race car driver since the young age of 11. I "retired" from racing when I got pregnant with my son, who is now 4 now years old. I then worked in "Corporate America" from the age of 16 up until 2018. I considered myself as a jack of all trades. I've been a waitress, nail technician, and automotive service advisor."
Stated Makayla.
In 2016, Guidace found her calling in the social selling arena helping others, learning from amazing mentors and waking up every day loving what she does; in which, it greatly shows from her rapid success.  She reached the top rank in her prior company within 90 days, building a team of over 4000 people in only nine months!
Guidace, who achieved All Star Elite status with Velovita, continues to be driven by her "why" which is her son. In order to build the best future possible, she chose to align herself with Velovita for three primary reasons, which she shared in her own words:
"The first reason is hands down the product. I have tried many health and wellness products, but I can say this is easily the best & most effective product I have ever used.  There is nothing on the market like it. People are loving the one-step system. And you can't beat 2-day, $5 shipping!
Second is the operations.  I already mentioned the shipping, but the customer service is flawless, and this company, in less than a year, has systems in place that many companies do not have after years of business. We have amazing recognition and a sustainable comp plan for long-term success.
And lastly, while this is a new company, the management and owners have been international MLM professionals for years.  I have friends and family in Australia and Europe, and I wanted to be sure the company that I called "home" not only wanted to be international, but that had a plan and a track record of doing it right!"
The future is bright for Makayla and Velovita. With an innovative health and wellness product line, combined with passionate Members like Makayla Guidace, Velovita is more than ready for its global expansion.
Velovita President Jeff Mack shared his appreciation for Makayla Guidace:
"At Velovita, we love to celebrate the success of entrepreneurs, as they represent not only themselves but also their families. We're excited that Makayla and many others are joining us and creating their better futures with Velovita. Seeing them not only provide but also thrive by helping others get more success out of their own lives is a feeling that's second to none!"
About Velovita
Founded on 90+ years of operational and field success, Velovita has quickly become a global leader of innovation in the field of biohacking, social selling, community expansion, and support for the new world entrepreneur.
Their mission is to provide an ecosystem of inspiration, education, and life enrichment. Velovita has a singular focus on the individual to increase their daily performance both mentally and physically. For more information on Velovita, please visit Velovita.com or Velovita's Facebook page. You may also contact Velovita at [email protected] It's a SNAP! We know you'll #LOVIT!
Recommended Distributors Velovita