MLM Industry Leader Nicola Shields from Scotland Joins QuiAri
April 9, 2021
By Team Business For Home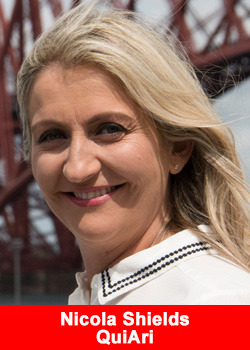 The struggle of being a single mother is 100% real. Nobody knows that better than Nicola Shields, who is originally from a village in Fife, Scotland called Dunshalt.
Nicola landed her dream job as an Events Manager in the U.K., but she wasn't living her dream lifestyle.
 "I really enjoyed being an Events Manager, but I struggled with the lack of flexibility and the long commute times. I kind of felt like I was always was chasing my tail. Despite my success at work, I couldn't fully appreciate it because of the guilt I felt inside,"
stated Nicola Shields.
It was 2013 when Nicola discovered the Network Marketing industry and changed her life around. She was able to work from home, climb the ranks, and invest in new income streams outside of the MLM industry. By 2016, Nicola had established a name for herself in the industry and had saved up enough money to start a traditional, work-from-home side business
"I managed to create a much better work-life balance for myself. Now as a QuiAri Promoter, I'm excited about the future. I have an awesome opportunity to think beyond just providing day-to-day for my family. My big dream is to create a legacy where my son, and possibly several generations after, have a secure future."
 Nicola understands that being a QuiAri Promoter doesn't guarantee success, but she really likes what QuiAri Founder and CEO, Bob Reina, has done for Promoters. She said that joining QuiAri was an easy choice because Bob created an opportunity that "checks off every box." She points to QuiAri's industry-first Same Day Pay as the catalyst that prompted her to take a closer look.
"A friend reached out and asked if I was open to a new opportunity. Honestly…I wasn't. Then they told me about getting paid commissions in 5 minutes. I've never heard of anybody doing that before. Suddenly, I was interested. When I learned more about the products and QuiAri's first-class executive team with over 150 years of MLM experience, I decided this would be the only opportunity for me."
Sharing products with others comes easy for Nicola. She has been drinking QuiAri Shake and taking QuiAri Energy tablets every morning and is loving the results.
"I look forward to drinking my delicious QuiAri Shake every morning. That's a first for me. It's perfectly sweet with no chalky aftertaste. It's helping me lose weight and sleep better at night. I wake up in the morning feeling fresh and ready to get to work. QuiAri Energy helps keep me laser-focused on my to-do list. I love it,"
Since joining QuiAri, Nicola has been spreading the word throughout the UK, Scotland, and the rest of Europe. She is reminded daily of her success. Every time she earns a commission, her mobile phone makes a "cha-ching" noise, letting her know she's been paid.
"It's so funny. I make this 'eeeeeek' sound when I hear my phone go off. Even though it happens many times a day, I still get excited."
said Nicola Shields.
QuiAri Founder and CEO, Bob Reina, is excited to see QuiAri rapidly expanding all across Europe. He's looking forward to visiting Promoters and Customers once travel restrictions are lifted.
"We have only just scratched the surface of what's to come. We're happy to have Nicola and her team on board and know they will continue to execute my vision of introducing QuiAri all across Europe and beyond,"
stated QuiAri Founder and CEO, Bob Reina.
Nicola has big dreams for the future and knows QuiAri is her best shot at making them all come true. She has seen what Bob has accomplished in only a little over a year in business and is excited to build on QuiAri's momentum.
"I get goosebumps thinking about the future. My first goal is to have the largest European team and achieve QuiAri's highest rank – Purple Diamond. But I won't stop there. I will help others achieve Purple Diamond, too. I really love the culture at QuiAri. Most companies are competition-driven, but at QuiAri we're more community-driven. On our climb to the top, we make a point to help lift those at the bottom,"
stated Nicola Shields.
About QuiAri
QuiAri is the #1 health and weight loss movement in the world today. Featuring exclusive, breakthrough products (QuiAri Shake and QuiAri Energy) featuring the world's new #1 superfruit, the Maqui berry, people everywhere are losing weight, boosting their energy levels, and improving their health. What started as an idea has now become a worldwide phenomenon, gaining a passionate following in over 200 countries.
But that's not all! We boast an exciting opportunity to promote QuiAri products and earn commissions within 5 minutes after each sale through industry-first, state-of-the-art payment technology. Combining unrivaled products with the fastest payout, the fastest cycling binary, and one of the highest paying compensation plans in the industry, there's no doubt QuiAri is helping people live healthier, happier lives. To learn more, please visit quiari.com.
These statements have not been evaluated by the Food and Drug Administration. These products are not intended to diagnose, treat, cure or prevent any disease.
Income Disclosure Statement
Please note the QuiAri business opportunity offers unlimited income potential. However, QuiAri makes no guarantee of financial success. Success with QuiAri results only from successful sales efforts, which require hard work, diligence, skill, persistence.
Recommended Distributors QuiAri