The Happy Co. Spreads Universal Happiness In The Network Marketing Space
April 28, 2021
By Team Business For Home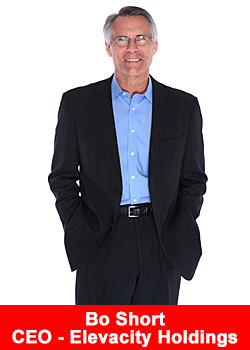 The year 2021 has brought big changes. Earlier this spring, Elepreneurs got rebranded as The Happy Co. This transformation is the result of an extensive six-month process with top-tier digital brand agency, BVA, whose portfolio includes billion-dollar brands like Red Bull and Kylie Cosmetics.
Why the change? "We believe everyone deserves to be happy, and our vision is to create a happier world together, one person at a time,"
explains Chief Marketing Officer Clare Holbrook.
"Everything about the new brand name and our new visual identity exudes happiness."
The Happy Co. rebranding is just the beginning. "By launching The Happy Co., we are perfectly positioned to expand globally," says Elevacity International Holdings Chief Executive Officer Bo Short. "We have big plans to take this brand around the world in 2021."
Origins of the Name & Brand
The launch of the new branding is just the beginning of a new vision for the future of The Happy Co. and its ever-growing ecosystem of products. And while one might assume that the Co. simply stands for "company," it also means connection, collaboration, co-creation and community — all facets of the brand.
In addition to its new name, The Happy Co. has a new logo, a refreshed color palette, and a complete redesign of its digital presence. "Our goal is for anyone who experiences our brand to immediately have a sense of surprise and delight," says Holbrook. "With family and community at the core of our company, an important piece of the design process was also promoting an inviting environment."
Happy Company, Happy Products
Happy represents the overall feel of the company, and it serves as the common denominator of all The Happy Co.'s functional nootropic beverages, which include coffee, vanilla chai tea, Georgia peach tea, hot chocolate, the nighttime "Unwined" drink and, most recently introduced, the world's first happy lemonade.
Happiness is a universal desire. The Happy Co. offers a global community unlike anything in the marketplace. If you believe that everyone deserves to be happy, join The Happy Co. on its mission to transform lives around the world.
About the Happy Co.
The Happy Co., formerly Elepreneurs, launched in February 2021 with an established foundation of successful nootropic, functional beverage products that enhance mood, boost energy, enhance sleep, and make you look and feel like a younger person. The Happy Co. starts with products but does not end there. We are a lifestyle and a dose of happy. For more information about The Happy Co. go here.
Recommended Distributors The Happy Co.