The Remarkable Story Of Evgenia Novikova's Rise To Gold Ambassador APLGO
April 20, 2021
By Team Business For Home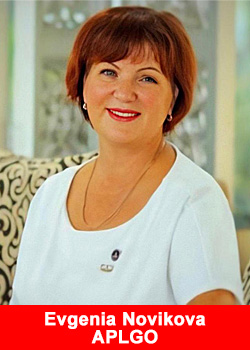 It was the summer of 1998, Evgenia Novikova was making her way through the outdoor-market place in Yalta, a city in Crimeria (Ukraine) with her children in-tow.
Evgenia's business of selling plastic bags to fruit stands owners and gift vendors in the marketplace wasn't glamorous, but it paid the bills. The work was hard and tedious as it demanded long hours on her feet.
Facing constant rejection, she learned to tell herself "Next" always to the next potential customer, always "Next."
As the day wore on, Evgenia's last stop was a corner vendor whom she had sold her bags to on many occasions. The shop owner politely told Evgenia they would no longer purchase any of her bags because they were starting a new business that did not require selling. He handed her a phone number and invited her to a meeting.
Evgenia recalls a turning point when she attended the meetings and saw a room full of happy people.
"They didn't talk about any problems, they smiled and supported each other."
She saw people go on stage where they were awarded and congratulated on their achievements, To Evgenia, the paychecks being presented seemed like a fantasy.
"I still didn't understand how it all worked, but I wanted it that way."
During this time Evgenia realized she could be living a much different life, a life meant to be bright and beautiful. Instead of focusing on obstacles, she began to think only of HOW to Think, How to be precise – these were concepts that changed her thoughts and allowed her to believe in herself.
She joined the company and built a very large check, but the company had problems and she later resigned. During this time, a friend reached out to her about APLGO.
Evgenia recalls when she was first introduced to APLGO she thought the product was ridiculous, she described it as "Some candy with magical properties."
It wasn't until she tried the NRM Rapid DNA Drop and had a positive experience that her mind began to change. Without her previous company paychecks, the loans and bills began to pile up, so she decided to join APLGO. One of the contributing factors was how much the compensation plan paid out – 63% on the dollar.
Today the "Bag lady" from the marketplace in the Ukraine lives a much different life. She owns homes in different countries, travels and enjoys the rewards APLGO provides. Most important to Evgenia is spending time with her children and helping them understand the business.
"Network marketing is a profession that requires certain skills and experience, if you give up, you will never become a professional or achieve anything.

If people deny you, they are just denying themselves and just like in the marketplace selling plastic bags, if a potential business partner says no, just say next!"
Evgenia is inspired by many people, but in the end her compass is her heart.
About APLGO
APLGO is an 8.5 year old company now in whisper launch in the US, Canada, Australia, Mexico and Peru. Our experienced corporate team is dedicated to your success and led by owner Sergei Kulikov, a successful, international network marketing leader. Our head office consists of six departments and sixteen divisions, with 14 global warehouses and more to come.. We consult with top-tier providers to ensure every aspect of the business is solid and scalable.
We believe the best companies create an amazing culture by providing  a positive atmosphere for every distributor and treat our employees and customers with respect. Founder and CEO Sergey Kulikov made his first $1,000,000 at 21 years of age. He is the author of an online educational platform used within APLGO since 2014 that tracks and manages Associate efficiency. For more information please visit us.aplgo.com
Recommended Distributors APL GO