Toney & Kelly Freeman Are Breaking Growth Records At Amplifei International.
April 5, 2021
By Team Business For Home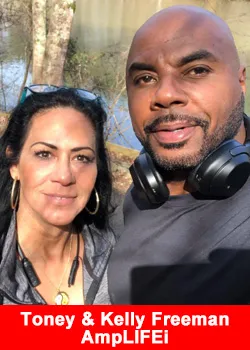 World Renown Bodybuilder, Toney "The X-Man" & Kelly Freeman Advances to the sales rank of Diamond in their first 90-days marketing Hapinsss Brand products.
Based in Atlanta, Toney and Kelly have been together for nearly 30 years, raising their three boys. Toney formerly is one of the top 5 bodybuilders in the world known as "The X-Man" with numerous international titles. Kelly is a real estate professional, known for her creative design and renovation abilities with luxury kitchens and bathrooms. Both Kelly and Toney have been network marketing professionals for over a decade.
"Toney has been instrumental in my health business journey since the day we met," says Robert Oblon, Founder of Amplifei. "The degree of his knowledge of how the body works after bodybuilding at the absolute highest level for 30 years gives him knowledge even most doctors don't understand. Plus, since we met, Toney has made more money with us than he made in his entire 30 year bodybuilding career!"
Toney Freeman shares
"When we were first invited to meet Robert, we sat there listening to him and several other speakers share their stories of success and failure, and it reminded us of our own journey of highs and lows. When Robert revealed his vision of propelling his new company to the top of direct selling by doing things right, that's when Kelly and I knew we were in the right place at the right time."

"We tried the products and simply loved them, said Kelly. "We began sharing them with others, building a customer base and affiliate network.

We launched our new business by sharing our experience with these amazing products with friends, family, and business associates. After a few of our key people experienced the products, they quickly came to the same conclusion and joined us, the success our team has seen in just the first months is mind-blowing!"
Headquartered in Greenwood, Indiana, Hapinss Brands™ and Amplifei International™ were founded in 2020 by Robert Oblon, who serves both companies as Founder and Chief Executive Officer.
About AmpLIFEi™ and HAPInss Brands™
AmpLIFEi International™ is a health and wellness lifestyle company with exclusive marketing rights for HAPInss Brands' products serving freelance entrepreneurs. These two Companies combined give customers and its freelance entrepreneurs more options to improve their lives in a more complete way. For more information about AmpLIFEi™ please visit www.AmpLIFEi.com.
HAPInss Brands™ is a Nutritional Science company providing people with the latest technological advances specific to amplifying the state of wellbeing, also known as happiness. For more information about HAPInss Brands™ please visit www.HAPInss.com.