Top Rising Star Poll 2021
April 3, 2021
By Team Business For Home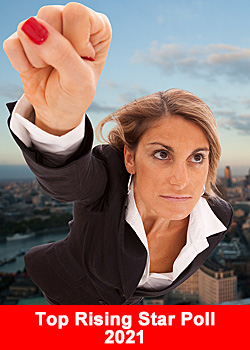 The young rising stars of Direct Sales everyone in the industry should get to know or to follow, the EAGLES! ?
Young rising stars in Network Marketing are nominated by the Ambassadors of Network marketing, and our community.
This list is by no means comprehensive. To be eligible, apart from sterling endorsements and a strong track record, we asked that nominees be 35 years young or under and should be growing quickly in popularity or importance.
The rising star shares power, puts the needs of others first and helps people develop and perform as highly as possible.
We have nominated 125+ Top Rising Stars, in cooperation with numerous Direct Selling Professionals.
You can vote 1 time only, through our free app (iOS and Android).  
To prevent "ghost votes" we have implemented a number of undisclosed algorithms.
Please do not try to "Buy votes" or hack the system, we notice that.
We will terminate voting for the one involved in fraud without mercy…
One word of advise: Do not wait till the last 2 days to mobilise your troops to vote. Somehow this website is a popular target for DDoS attacks, and sometimes we are forced to end voting to keep the website up and running.
If you want to nominate an awesome Young Rising Star, please email our Support Desk.
This poll is closed, it is no longer possible to vote
After 12,843 votes:
Total voters: 12,843
Cayan Tavana (NL) (24.6%, 3,158 votes)

Carolina Cruz & Asdrúbal Sanabria (CR) (19.4%, 2,486 votes)

Viraj Patil (IN) (14%, 1,802 votes)

Esperanca Americo (MZ) (8.7%, 1,115 votes)

Sara Gonzalez & Derlis Alcaraz (PY) (5.8%, 745 votes)

Erika Delgado (CO) (3.3%, 430 votes)

Albert Gyeke (US) (3.2%, 409 votes)

Karabo Moabelo (ZA) (3.1%, 395 votes)

Marion Tenda (CM) (2.7%, 350 votes)

Jackie Birchfield (US) (1.6%, 210 votes)

Jason Rodriguez (DO) (1.6%, 203 votes)

Marine Charrie (FR) (1.5%, 190 votes)

Lorena Gabor (RO) (1.4%, 181 votes)

Nthabiseng Hartvig (ZA) (0.9%, 116 votes)

Emma Trust Agaba (UG) (0.7%, 91 votes)

Hernan Calderon (CR) (0.7%, 89 votes)

Grace Venter (AU) (0.7%, 85 votes)

Roda Hassan Elmi (CA) (0.6%, 83 votes)

Michelle Groote (NL) (0.6%, 79 votes)

Selman Olgun (TR) (0.4%, 57 votes)

Jennifer Switzer (US) (0.4%, 45 votes)

Michelle Geouge (US) (0.3%, 34 votes)

Kaine Harriott (US) (0.2%, 28 votes)

Christian Prada Murillo (CO) (0.2%, 26 votes)

Jitte Te Pas (NL) (0.2%, 25 votes)

Amelie Garcia Geijo (BE) (0.2%, 24 votes)

Etienne Gillard (CA) (0.2%, 23 votes)

Steph Wise (CA) (0.2%, 21 votes)

Yolande Van Der Linde (ZA) (0.1%, 18 votes)

Helen Blesa Martinez (ES) (0.1%, 18 votes)

Alessandro Codecà (IT) (0.1%, 16 votes)

Casipe Wrapshell Alderson (US) (0.1%, 15 votes)

Eduardo Toledo (MX) (0.1%, 14 votes)

Rakan Khalifa (CA) (0.1%, 13 votes)

Juan Diego Jimenez (CR) (0.1%, 12 votes)

Waldon & Danielle Fenster (US) (0.1%, 12 votes)

Alyssa Cowart (US) (0.1%, 11 votes)

Chad Thompson (US) (0.1%, 11 votes)

Nathalie Nicole Smith (US) (0.1%, 10 votes)

Andreas Küffner (DE) (0.1%, 9 votes)

Maniya Canty (US) (0.1%, 9 votes)

Alyssa Favreau (US) (0.1%, 8 votes)

Chris and Ashley Conklin (US) (0.1%, 8 votes)

Ana Ramirez Murchison (US) (0.1%, 7 votes)

Daniel Moreno (CH) (0%, 6 votes)

Ester Mercado (US) (0%, 6 votes)

Nadine Rummeling (PH) (0%, 6 votes)

Amber Marie Springer (US) (0%, 5 votes)

Amy Poepping (US) (0%, 5 votes)

Andres Uscategui (CO) (0%, 5 votes)

Artur Heinrich (DE) (0%, 5 votes)

Khanh Hai (VN) (0%, 5 votes)

Maxime Pierre (FR) (0%, 5 votes)

Quentin Sitch (NL) (0%, 5 votes)

Andrea Traina (IT) (0%, 4 votes)

Austin Godsey (US) (0%, 4 votes)

Fermin Andres Vera Carrion (EC) (0%, 4 votes)

Kevin Londot (GB) (0%, 4 votes)

Tayler Schweigert (DE) (0%, 4 votes)

Chrysanthos Alexandrou (CY) (0%, 3 votes)

Giorgio Trabaldo (IT) (0%, 3 votes)

Jeff Simpson Jr (US) (0%, 3 votes)

Marius Fulgu (RO) (0%, 3 votes)

Mauricio Sotelo (PE) (0%, 3 votes)

Polina Klyukach (RU) (0%, 3 votes)

Razvan Dinca (RO) (0%, 3 votes)

Josephine Jonathan (ZA) (0%, 3 votes)

Analicia Thackray (BR) (0%, 2 votes)

Anders Nordermoen (NO) (0%, 2 votes)

Benjamin Heyny (AT) (0%, 2 votes)

Breanna Killpack (US) (0%, 2 votes)

David Durant (CA) (0%, 2 votes)

Francesco Aieta (IT) (0%, 2 votes)

Hayden Vavra (US) (0%, 2 votes)

Jonathan Lopez (US) (0%, 2 votes)

Maurice Sommer (AT) (0%, 2 votes)

Omar De Tommaso (IT) (0%, 2 votes)

Pierre Relekom (BE) (0%, 2 votes)

Rachele Grimoldi (IT) (0%, 2 votes)

Rachell Ko (US) (0%, 2 votes)

Richard Buettner (CY) (0%, 2 votes)

Shayo Alofe (GB) (0%, 2 votes)

Sheri Lynn Hollenback (US) (0%, 2 votes)

Taryn Leiker (US) (0%, 2 votes)

Marco Pesenti (IT) (0%, 2 votes)

Aneska Wide (ZA) (0%, 1 votes)

Ben & Magen Reivers (US) (0%, 1 votes)

Cezar Surdulescu (RO) (0%, 1 votes)

Fabian Fitzner (DE) (0%, 1 votes)

Gary Van Aswegen (ZA) (0%, 1 votes)

Jeanie Pham (AU) (0%, 1 votes)

Julian Kuschner (US) (0%, 1 votes)

Marco Dell'Arena (IT) (0%, 1 votes)

Marina Mursic (SI) (0%, 1 votes)

Marius Strom (NO) (0%, 1 votes)

Martin Buchwald (DE) (0%, 1 votes)

Melle Bijstra (NL) (0%, 1 votes)

Michael Rezek (DO) (0%, 1 votes)

Michele Perico (IT) (0%, 1 votes)

Naill Green (GB) (0%, 1 votes)

Nikolaj Heinz (DK) (0%, 1 votes)

Rebecca Garrett (US) (0%, 1 votes)

Sebastian Ubierna (PE) (0%, 1 votes)

Shellie Agmon (GB) (0%, 1 votes)