Tracy Zimmer Achieves Red Diamond Rank At Seacret Direct
April 12, 2021
By Team Business For Home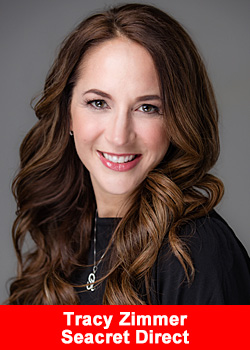 Tracy attributes success to passion for Seacret products and lifestyle.
The power of social networking is how Tracy Zimmer describes the beginning of her career in direct-selling. Tracy learned of Seacret while working as a teacher, the profession she planned on having until retirement. Thirteen years later, she realizes that life often has other plans better designed for her benefit.
Tracy was introduced to Seacret Direct through an invitation received on Facebook. She appreciated how Seacret initially established awareness within the physical retail space and then moved to a direct selling model. Her interest in the company was founded on the products and the formulations derived from natural minerals of the Dead Sea.
"Today I have the flexibility and time freedom I never thought was possible," Tracy says, "and it all started with Seacret as a second income." Within a few months, it became obvious that that some of the most impactful results of pursuing a modest alternate income through Seacret were felt in her home life.
"I was able to go from working on a set schedule and dropping my kids at childcare to working when I want, where I want, and with who I want while still being able to be a full-time mom,"
says Tracy. *
She reflects how Seacret Direct provides so many people like her a place where she could pursue her ambition and develop her business skills.  Through commitment, and factors unique to her, she now views Seacret as a career she had never considered an option for her before. Tracy attributes this to the vision of Izhak Ben Shabbat, CEO and Founder of the company.
"He never quits and always puts people first. He is kind, genuine, leads with integrity. He takes care of us, all of us, the Seacret family," she says.
Knowing the value of gratitude, Tracy includes moments of positive self-reflection and practices self-care daily. She urges her associates to do the same. According to Tracy,
"You never know how strong you are until life challenges you to step up and show it. That's when resiliency matters. We all have it. It's wonderful when you recognize that it's been there all along."
Tracy is a force in the organization.
"She brings determination and grace to Seacret. We know Tracy will continue to be a leader and an inspiration to many in the Seacret family,"
says Izhak.
The recent rank advancement to Red Diamond is another milestone for Tracy, one in a line of other goals she sets for the near future. The alliance with her team is heartfelt and it lives in the support she provides helping others achieve their dreams.
"Lift ordinary people up in the world. Give them the vehicle to change their lives and give them options. Seacret does that and so much more."
Tracy reflects.
Tracy envisions leading many in her organization to having experiences similar to hers, including more rank advancements of Platinum, Ruby, Diamond, Blue Diamond, Red Diamond, Crown, and Crown Royale.
About Seacret Direct
Seacret Direct is a service driven company. Launched with a direct-to-consumer model selling premium Dead Sea skincare products through kiosks, Seacret became the world leader in the space. From the lowest point on earth, with over 20 years of expertise and mastery, Seacret Minerals from the Dead Sea unlocks the potential of this legendary beauty spa that seduced Cleopatra and brings it directly to customers worldwide.
Founded in 2005, Seacret Direct develops, manufactures and sells premium nutrition and skincare products that combine Dead Sea minerals and other clean ingredients with new technologies and scientific breakthroughs. Exclusively manufactured in Israel, Seacret skincare products offer mineral combinations found only in the Dead Sea. Seacret nutrition products are plant centered formulas and supplements for every body. The Club Seacret membership program rounds out the proposition of the lifestyle company serving an ever-expanding community.
Seacret products were sold in many countries before the company adopted the direct selling business model in 2011. Since then, Seacret continues to be recognized on the DSN Global 100 list for its global impact of the industry on economic and social realms.
For more information, visit seacretdirect.com or clubseacret.com.
* Income level achievements are dependent upon the individual's business skills, personal ambition, time, commitment, activity and demographic factors. A Seacret Agents lifestyle and income attributed to their Seacret business that appear in this publication are examples and should not be construed as typical or average.
Recommended Distributors Seacret Direct