Bruno Teles Grilo From Portugal Achieves Regional Director Elite Rank At Kannaway
May 13, 2021
By Team Business For Home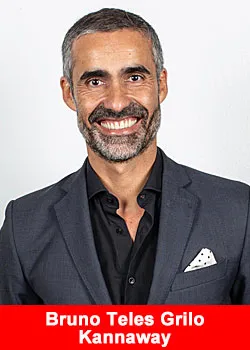 Kannaway® Recognizes Entrepreneur Bruno Teles Grilo for Achieving Regional Director Rank:
Kannaway® announced today that they are recognizing Bruno Teles Grilo as one of their newest Entrepreneurs to reach the company's Regional Director rank.
Hailing from Lisbon, Portugal, Bruno Teles Grilo is a distinguished direct selling expert with 14 years of experience in the network marketing field. With his achievement of Regional Director, he qualifies for the upcoming Kannaway® Elite Retreat due to take place in Thailand later this year.
"We are proud to have Bruno as part of our team and commend him for his achievements in Kannaway® so far,"
said Kannaway® CEO Blake Schroeder.
"Having seen all that Bruno has accomplished in his career, I am thrilled to continue working alongside him as he presses on with developing his global leadership team."
Bruno joined Kannaway® after having personally consumed Kannaway's world class products to support his triathlon training. After feeling the benefits in is quality of ife, he decided to apply his network marketing expertise in Kannaway.
"Kannaway is a company with history, pioneer in the sector, with premium products, very competitive prices, a fair and attractive compensation plan, and professional management,
Bruno Grilo said.
"We are going to build a strong entrepreneurial community based on good values and with the right principles for today."
Bruno attributes his success in Kannaway® to having the humility to be guided by mentors and prioritizing mental performance. He aspires to use his knowledge and leadership to help others build flourishing businesses in Kannaway®.
Kannaway® is the first international cannabis company that specializes in the sales and marketing of hemp-based botanical products. The company envisions hemp in every home, and encourages its international team of Entrepreneurs to create their own successful distribution businesses that will drive positive change and support the health of the people around the globe.
About Kannaway® 
Kannaway® is a network sales and marketing company specializing in the sales and marketing of hemp-based botanical products. Kannaway® hosts regular sales meetings and conferences across the globe, offering unique insight and opportunity to sales professionals who are desirous of becoming successful leaders in the sale and marketing of hemp-based botanical products.
Recommended Distributors Kannaway