Dr. Pamela Marcum Achieves 100k Rank At MyDailyChoice
May 20, 2021
By Team Business For Home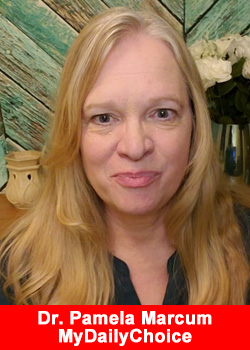 Dr. Pamela Marcum is a busy wife and mother of 8 who homeschools and recently graduated her 7th child.
She is also a clinical psychologist with a passion for helping others achieve their goals and improving the world around her.
Her journey with MDC began about 4 years ago. She wanted to make some extra income while homeschooling her 8 children. Working her professional career was rewarding, but also tiring and very demanding and MLM offered a whole new world of possibilities. It wasn't until she discovered MDC that she was able to build a significant business. This, she says, is due to the quality of the products offered. HempWorx is what first attracted her.
"I had not even heard of CBD at that point. Once I did some research on what it could do for people, I was ready to get started! I was especially interested in how it might support healthy mood   and was excited to find some really good results in the research literature.

 

To find out what the endocannabinoid system is, how it affects our other body systems, how the brain is rich in these receptors, was eye-opening! Then to find out about the purity of the HempWorx products and the painstaking quality control, there was no way NOT to join and to tell everyone I know."
She credits her parents and grandparents for instilling an appreciation for hard work, and her upline and friends, Barb and Andy Miller and their son Austin, and Shara-Lynn and Will Morrison—who have always supported and inspired her. Also, her sisters and business partners Drinda Dye and Heather Allen. The three sisters work together to grow their team and enjoy every minute of it.
"But most of all, I would definitely have to say the company and its commitment to purity and quality of the products has been one of the main reasons for success. No matter how hard you try, if you are representing a poor product or company, success would be limited."
Dr. Pamela's next goal is to hit 250k and then Super Affiliate over the next three years. She's well on her way and MDC would like to congratulate her once again on all the success she's had so far.
About MyDailyChoice
MyDailyChoice, Inc., based in Las Vegas, NV, is the global leader for pure CBD products, the finest essential oils, exclusive travel deals, and wellness and performance products. With thousands of active Affiliates worldwide and five unique brands – HempWorx, Mantra Essential Oils, High Life Travel, Daily Sprays and Akashx – MyDailyChoice is a recognized leader in the Direct Selling Industry.
MyDailyChoice brings its mission to empower families with the opportunity to be physically and financially healthy. MyDailyChoice's 100% commitment to innovation continuously brings customers and Affiliates the highest quality and latest product breakthroughs in the wellness space, supporting holistic lifestyles and the entrepreneurial spirit.
For more information, please call +1 (888) 877-5436 or visit www.mydailychoice.com.
There are no guarantees regarding the income from the MyDailyChoice/HempWorx opportunity. The success or failure of each Affiliate, like in any other business, depends upon each Affiliate's skillset and personal effort.
Earning levels for Independent Affiliates are examples and should not be construed as typical or average. Income level achievements are dependent upon the individual Affiliates business skills, personal ambition, time, commitment, activity and demographic factors. To view the MyDailyChoice Income Disclosure Statement, click here.
Recommended Distributors MyDailyChoice