Giuseppe "Peppe" Lucio From Italy Achieves Double Diamond Rank At VYVO
May 14, 2021
By Team Business For Home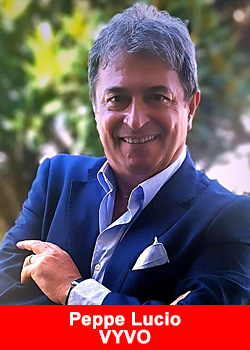 VYVO knows that the European market is specific in the Network Marketing Industry, with many unique challenges, many countries, different languages, and diverse cultures. To succeed in this market, one must have a professional management team strategy with ample international experience, a great business plan, and VYVO already has all of those.
VYVO is so grateful to be working with leaders in Europe, like the latest Double Diamond leader, Giuseppe "Peppe" Lucio, who has put all his determination, passion, and commitment to achieve these goals.
"In my entire career, I've never seen something like that!" shared Miljan Ubiparipovic, SVP Sales for Europe and the CIS Area. "Finally, I can say: dreams come true for everyone willing to do the work to become successful in this industry."
"I'm not talking just about the earning. I'm talking about legacy and long-term success. I learn that every big opportunity comes only one time in life! If you're lucky, maybe twice. And now is the right time to be at the forefront of this incredible new era. If you ask me, Why VYVO? The answer is very simple because VYVO is the future! and the future is now!" concluded Mr. Ubiparipovic.
Only ten months ago, Mr. Lucio joined the VYVO family and immediately conceived and organized a road map for the European market development.
Taking advantage of his strategist skills, he has planned, along with other VYVO leaders, a plan to climb through the European market. Harnessing his past experiences as a networking professional and corporate expertise, he has repeatedly demonstrated that the secret is maintaining enthusiasm for one's work and doing it with passion and dedication. In fact, even today, at the age of 59, he continues to reach new ranks, such as his latest goal: Double Diamond.
The Romanian market has also joined the VYVO network with a fresh leadership that excels in its performance.
VYVO shares its delight and confidence in their road ahead as they continue paving it with success stories. The Italian market has now warmed up its engines and will soon be traveling in the fast lanes only, thanks to the extraordinary leadership driving it forward.
The growth and development of VYVO are undoubtedly not only due to their noble and extraordinary nature of a Digital Health Sharing Economy model based on Digital Health and LifeWatches that guide wearers to make smarter, better decisions about their health, wellness, and overall lifestyle, along with precision nutrition.
VYVO's main goal of creating better living standards for everyone hasn't changed. Still, it also is bolstered and reinforced by the ingenuity and brilliance of leaders recognizing the potential behind the opportunity, the life-changing technology, its skilled board members, and the world-class, international executive team.
About VYVO
VYVO is on a mission that has created a lucrative home-based nutrition and tech opportunity empowering millions of people worldwide to maximize limitless online revenue focused on precision health, prosperity, and economic well-being. Members are continuously rewarded for wearing their VYVO LifeWatch while effortlessly contributing their biodata anonymously to a unique Global Health Fintech Platform, enabled by Life Sensing Technology™ and secured by Blockchain technology.
VYVO Inc. is an award-winning Silicon Valley-based technology company that creates sophisticated wearable technology and quality precision nutrition delivering an unrivaled direct selling opportunity; enabling everyone to join VYVO's Smart Generation and using their platform for the greater good of humanity.
Proven leaders in innovation with patented technology that protects, monitors, and empowers people who seek an overall enhanced lifestyle. VYVO's technology-driven mission has inspired the first self-funded Digital Health Sharing Economy where everyone can prosper. For more information, please visit VYVO.com and join VYVO's Facebook Community.